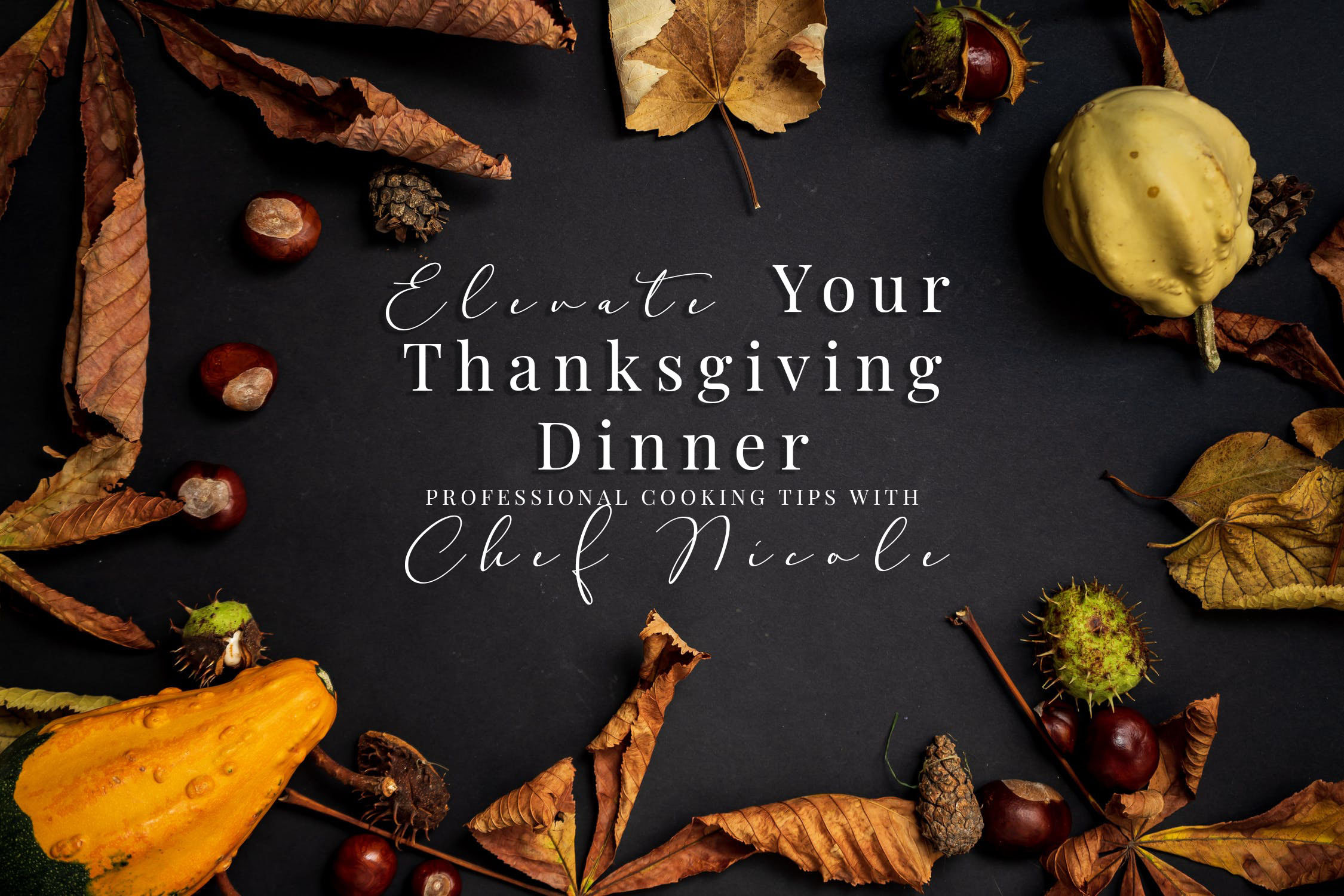 Elevate Your Thanksgiving Dinner With These Professional Tips From Chef Nicole Studer
Chef Nicole is a cooking genius bringing us her very best tips to elevate your Thanksgiving Dinner! Whether you're cooking for a few, or a crowd, use these expert tips to bring your inner chef out this year and the many to come. Interviewing her was such a pleasure, if you have questions for her in the future, be sure to let us know and subscribe to see if your questions are featured for her in posts to come!
1. Charcuterie Boards Are A Must For Guests While You Cook
Chef Nicole: Charcuterie boards are a total crowd pleaser. You can be really creative or just throw a few things together, I like to start with basics and add off of that. I live in a nut free house so I like to put things like nuts on the side.
Q: What are your favorite items that you can't live without? Favorite cheese that all our guests will love?
Chef Nicole: My go to is totally a Brie. I love how full of flavor it is, easy to eat and pairs well with all types of crackers and wine. When in doubt, serve familiar foods and crackers that everyone knows. I go with a ripened cheese like Brie, a hard cheese like Parmesan, a soft cheese like Mozzarella, Blue Cheese and a semi-hard one like Gouda. I also like to add a cheese with spice in it like a pepper jack. Always use grapes and apples then just fill in with something seasonal like pears, figs or dried cranberries.
2. Mashed Potatoes The RIGHT Way
Chef Nicole: I don't mess around because I LOVE mashed potatoes and I am super critical of them lol. I recommend warming your milk, butter and or cream in a saute pan over heat before mixing them into your potatoes.That way, when you add them into your already piping hot mashers, you're not changing the temp or having to reheat them. Another tip for mashers is that sometimes we have too much going on and slightly over cook them. You can still save them by adding in more milk and butter then placing them on a baking sheet lined with parchment. Give them a little cook in the oven to regain that fluffy texture again, instead of a wet mixture mess.
3. Use Compound Butter For Unbelievable Flavor
Chef Nicole: Compound butter this is where you let butter come to room temperature and throw it in your Kitchenaid or mixer with herbs and seasonings to enhance the flavor of your butter. I usually throw in herbs that go well with my meal, this is something that you can tailor to you and the flavors you like.
Q: What herbs do you use and what would you use compound butter for?
Chef Nicole: My go to is Rosemary, Sage, diced Shallots, salt and pepper. First I mix the butter then chop my herbs. I love fresh herbs; I believe that fresh is better but for something like this if all you have is dry herbs that is totally usable and no need to stress. Mixing is important for evenly distributing the flavors into your butter. Use your compound butter to rub onto your turkey, this is way better than randomly sprinkling herbs on top because you can get the flavors easily distributed and really into the meat. I also use this on the inside of my turkey!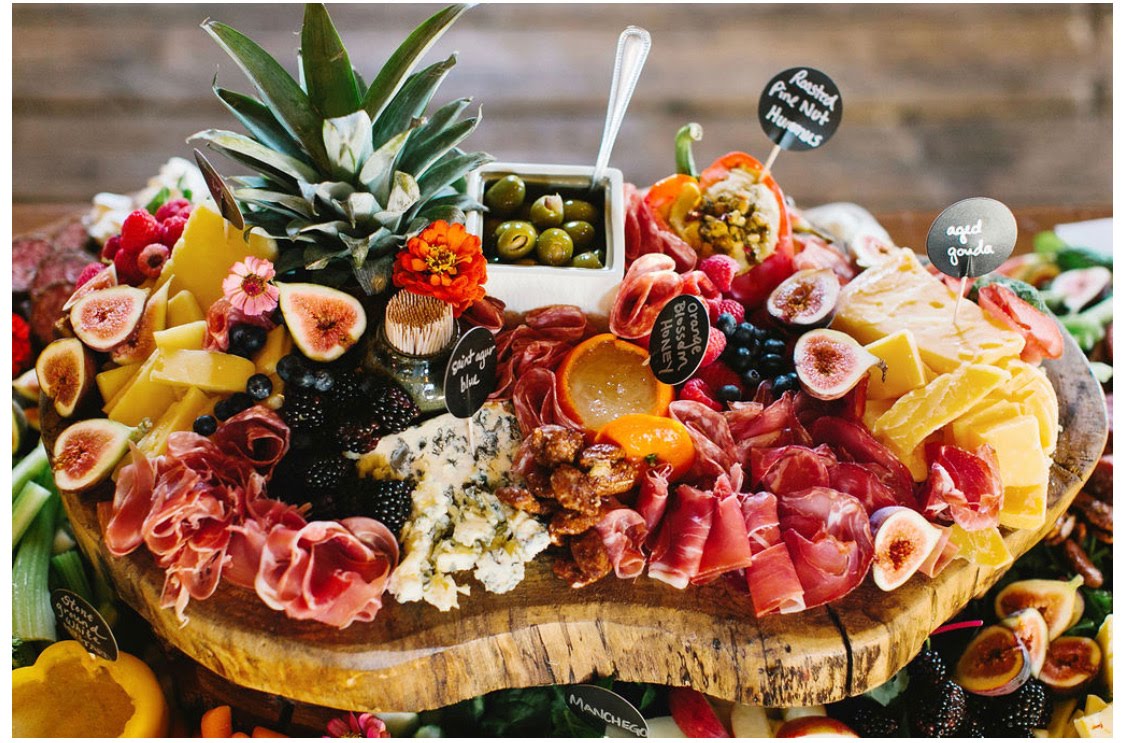 Photo Credit Logan Lane @Sarahmae's
4. Speed Up Cooking- Take Out The Turkey's Spine
Chef Nicole: It's called Spatchcock Turkey. This is where you remove the spine and lay your turkey flat while cooking, it helps you cook your turkey in half the time. It's something we do in the cooking world a ton with chicken, but I did it last year on Thanksgiving and my results were amazing. I was able to make it much quicker and easier than stressing about the main course not being ready.
Q: How do you even cut the spine out of the turkey, is this hard?
Chef Nicole: I cut out the spine down the back and only remove the spine with a knife or kitchen scissors. You are sit the turkey on its butt and and start by cutting from the neck towards the end. You can then lay it flat on your baking sheet and cook it for about half the time, measuring the meat with a thermometer for food safety.
5. The Best Holiday Cocktail- Chef Nicole Approved
Chef Nicole: -Holiday Sangria. I love Sangria because it's pretty much grab your favorite things, throw them into a pitcher with ice and fresh fruit and call it good! You are on your way to happy town lol. This is also nice because you know mamma needs her wine and mostly on the holidays! I just start with red, white or rose. Then you will need some booze, if you go with white or rose wine add a light liquor like vodka. If you go with red wine, traditionally you add Brandy. I also like to add some sparkling water, seltzer or tonic water; this adds a fun bubbly element. Simple syrup goes in to taste for sweetener and then all the fresh fruit you can think of. For holidays I like to add things that are in season like cranberries and citrus like oranges. They are both in season in the fall/winter, perfect for all the holidays!
6. The Best Thanksgiving Dessert To Serve?
Q: One Last question, what is the best and easiest dessert to serve as a chef on Thanksgiving?
Chef Nicole: Pumpkin Pie all the way! With more whipped cream than pie!
The Mama Guide approves that dessert!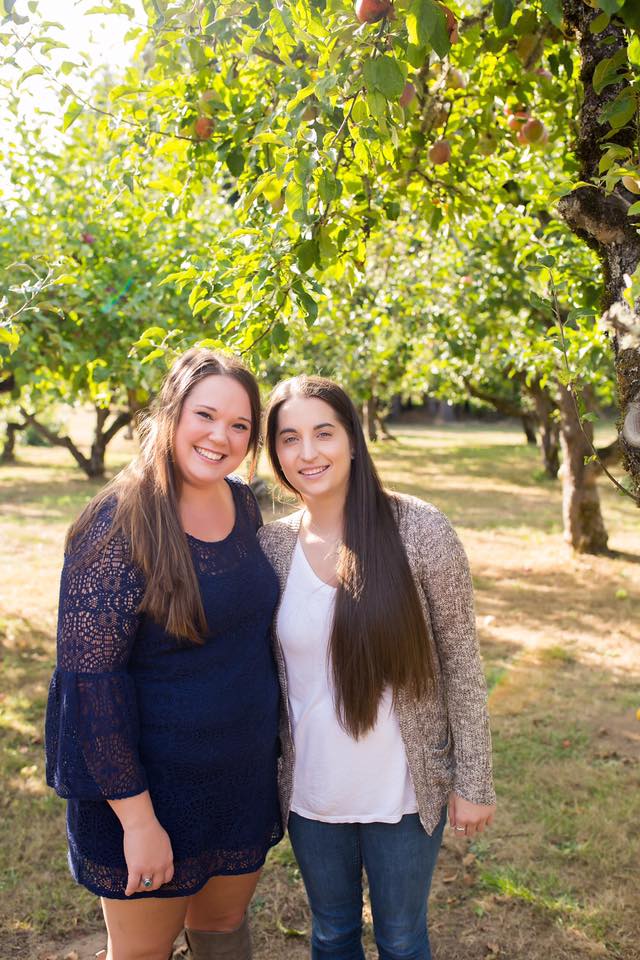 Meet Chef Nicole:
Chef Nicole (left) lives In Portland OR with her beautiful wife Kellie and two pups, Ariel the Basset Hound and Oakley the Toy Aussie. Nicole is inspired in the kitchen by teaching. She likes to bring the love of cooking and flavor through her dishes. She enjoys helping people understand cooking on a whole new level and getting them excited to create meals that they love. Nicole wants to show people that cooking can be easy instead of intimidating. Most of all, she loves to show her strengths and heart though the meals she serves.
Follow Nicole on Instagram @chefcolie