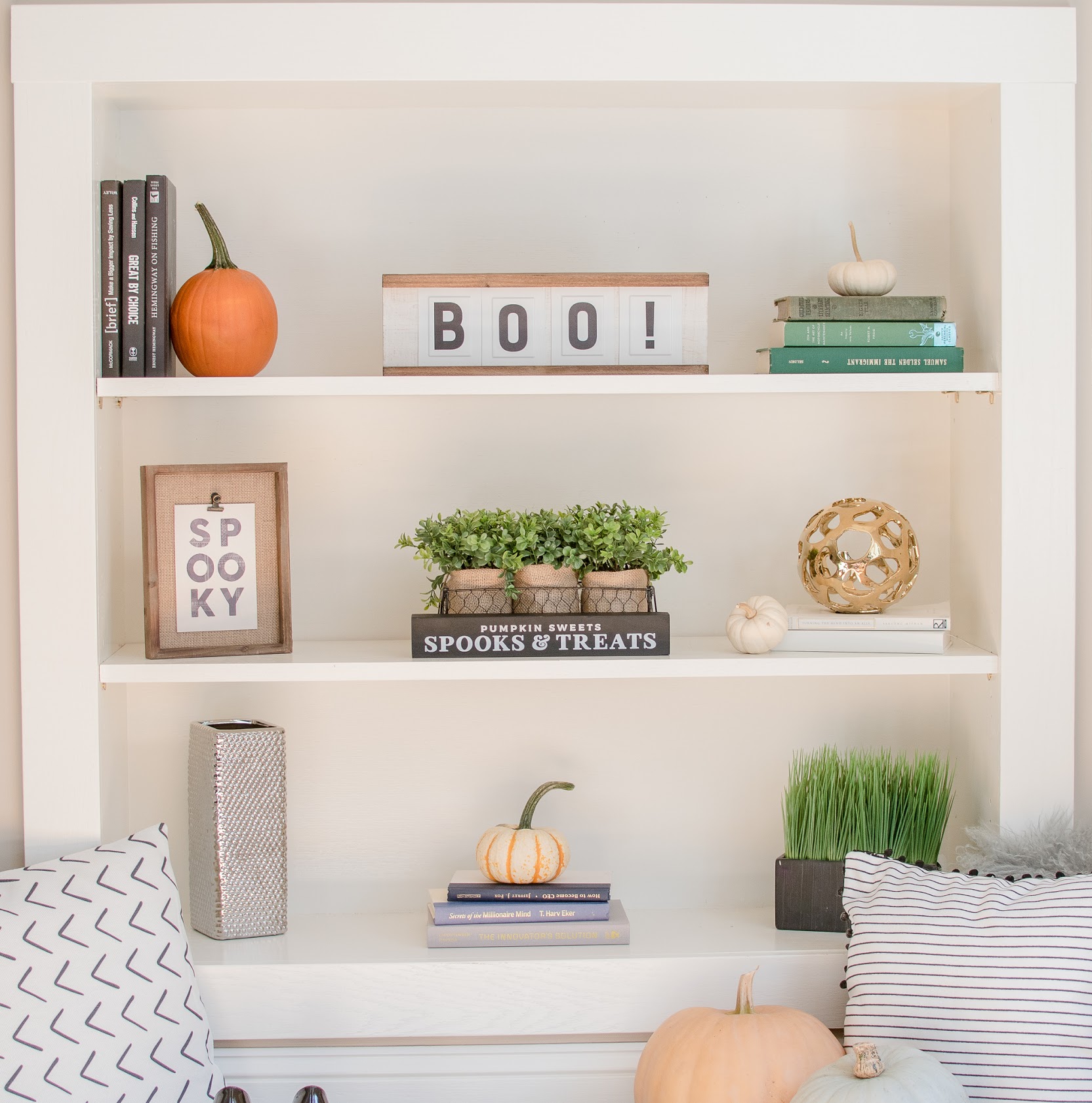 How To Decorate Built In Bookshelves
The other day I walked into our Den, a gorgeous room with beams running across the ceiling, full of light and adorned with windows that remind me of a seaside home. Want to guess what we use it for? A kids room, and for the Christmas tree once a year. Since moving in two years ago, we have been designing rooms one at a time but completely neglected the Den. On either side of these large curved windows are two built in bookshelves. It really is our in-home library for storage purposes. However, I couldn't believe that it hadn't donned on me to do anything with these beautiful book shelves! So, in comes Decocrated.
Decocrated is an amazing home decor subscription box that send seasonal boxes of curated one of a kind seasonal decor. The pieces are hand crafted and help keep my home beautiful throughout the year. Meaning- I have lots of pieces to play around with! Let's get to it. ((Use code CHELSEY10 for $10 off your first box.))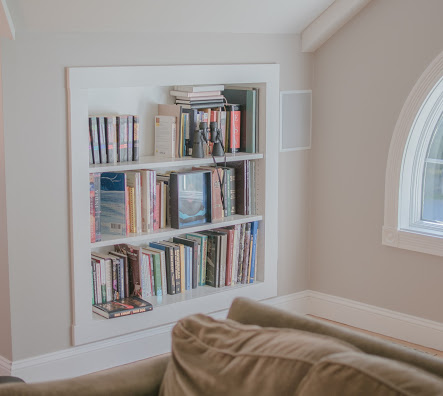 The Before
Obviously this little shelf had loads of potential. I have this habit of constantly moving things around until I find the perfect look I love, so the final style will probably change through the year. That's because it sometimes takes me a moment to find the perfect balance between design and function. Plus, I tend to get new pieces all the time and really just love to play around with decor.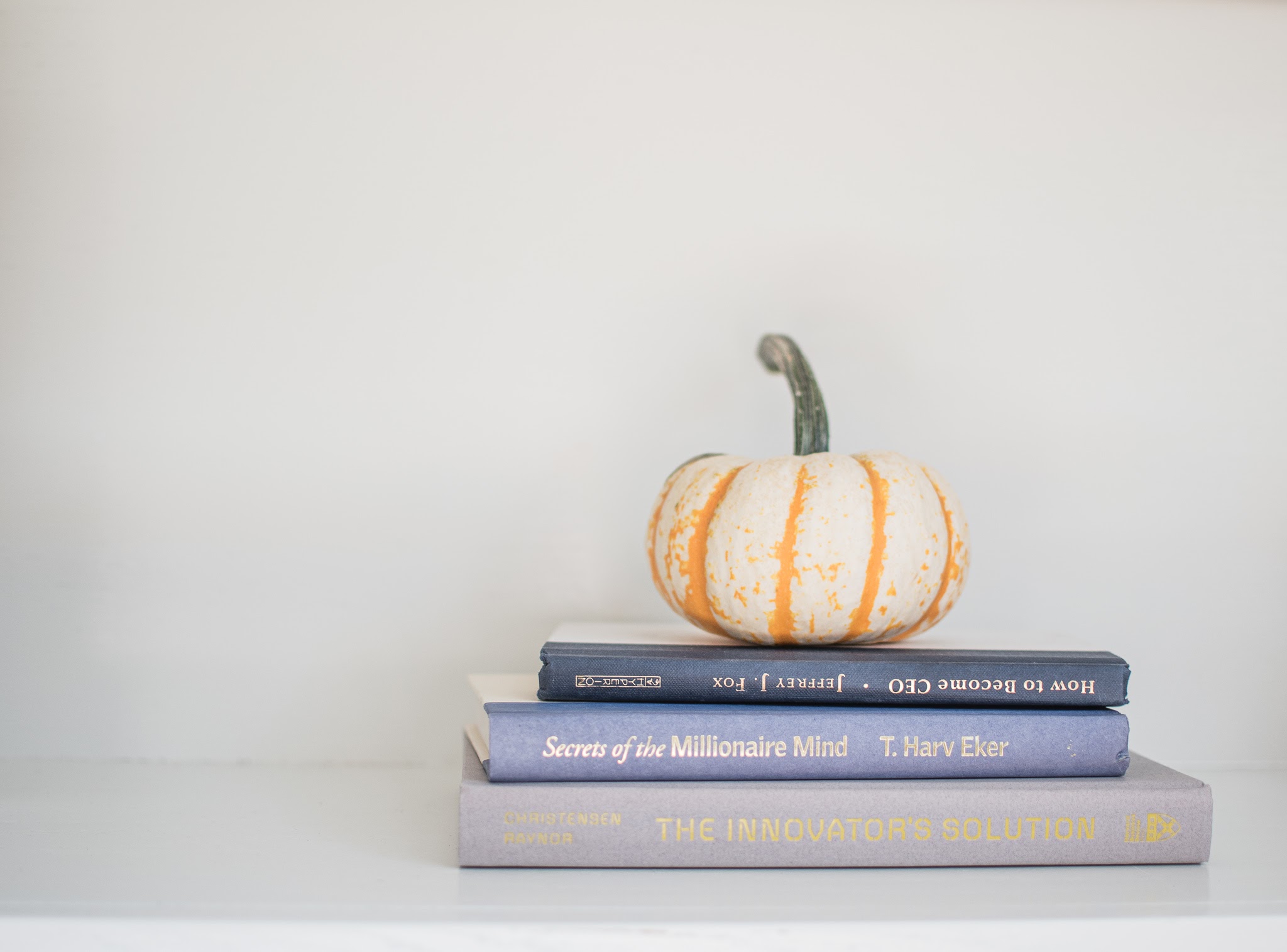 1-2-3   1-2-3   
If you look at any styled area, I will repeat this until it is engraved into your brain, style is complimented by odd numbers. Ish. That means that you can group items in threes, fives, etc, for a cohesive design. That also means grouping of like-type pieces look best in threes.  This rule is flexible because like the pumpkin sitting on top of the books above, the books are grouped in three, but additional items can be placed in because the shelves are also separated into threes.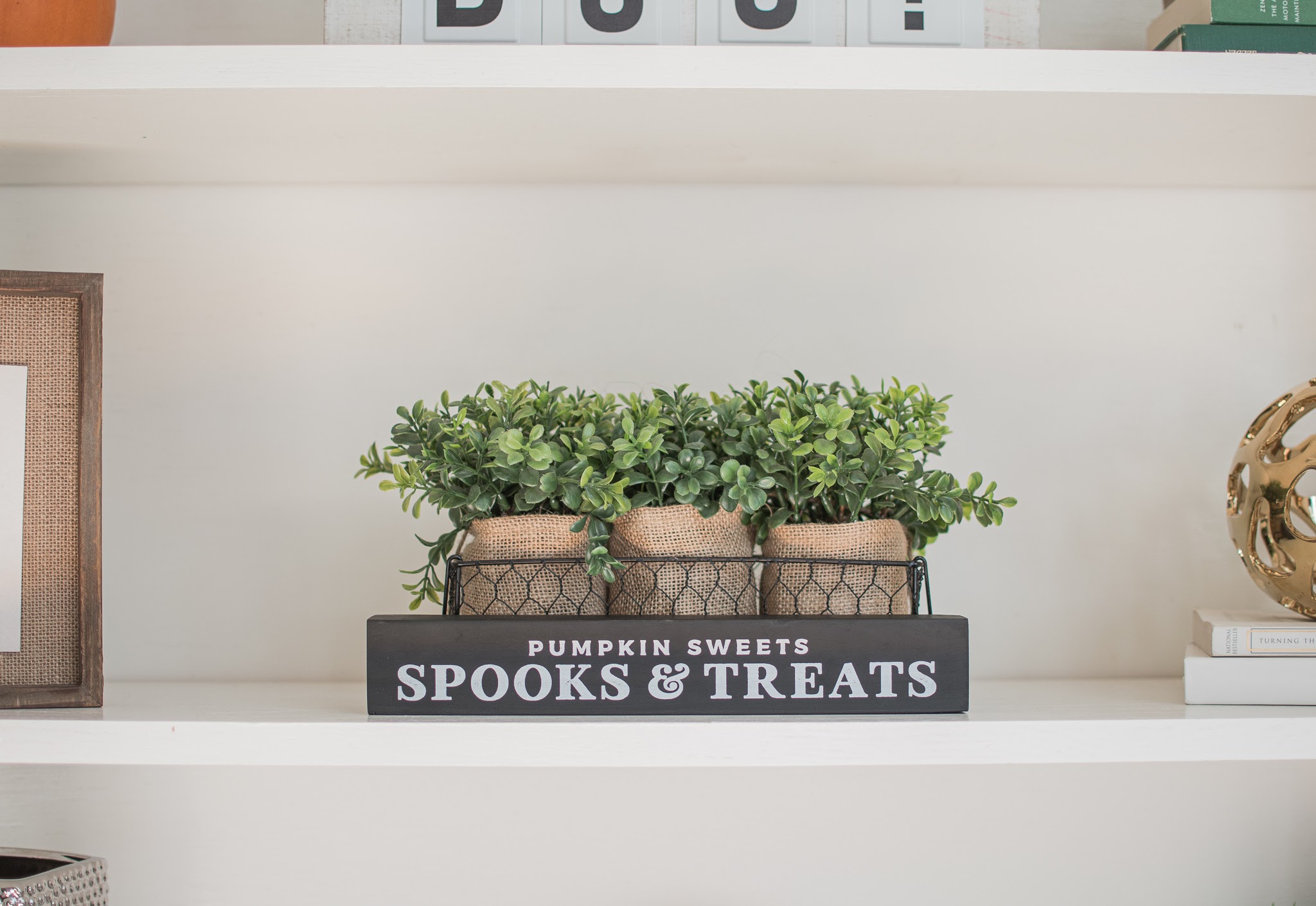 Contrasting Pieces 
When you see beautifully designed shelves you might think, how did they know all these pieces go together? Or, I would have never thought to place those together. However, there are actually rules that can help you do just the same! The first rule, add contrast! I personally love to introduce black into my decor because it gives a space depth, and helps me mix together both antiques with modern pieces. You may choose to add a bright and vibrant color instead, but never discount a good dose of black, because it truly is timeless.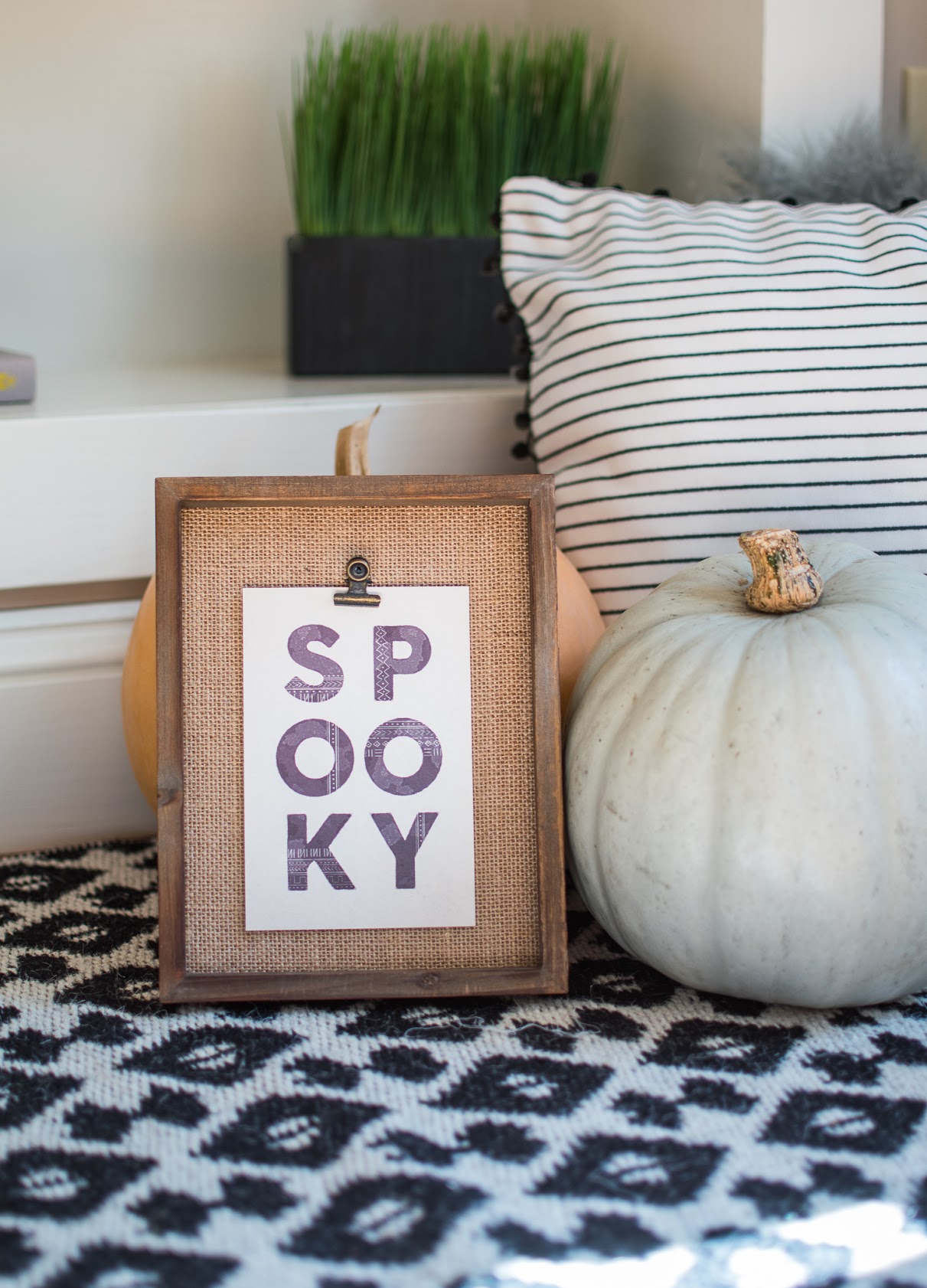 Function Is Key
 The common mistake I see with spaces and decor is neglecting to use a space for function. It can be pretty AND be a highly functioning space as well. The last thing you want to do is create a ton of spaces that are unusable in your home. Think about the adjoining spaces, can you make it a designated usable space? Given that the nearby windows are low to the ground, I turned the space into a reading nook full of pillows to create that cozy vibe. These pillows are actually from the Decocrated Summer & Fall boxes.
You can also add baskets to your shelving to hide items we don't want on display, but that you need for everyday use, like keys, remotes, baby toys etc.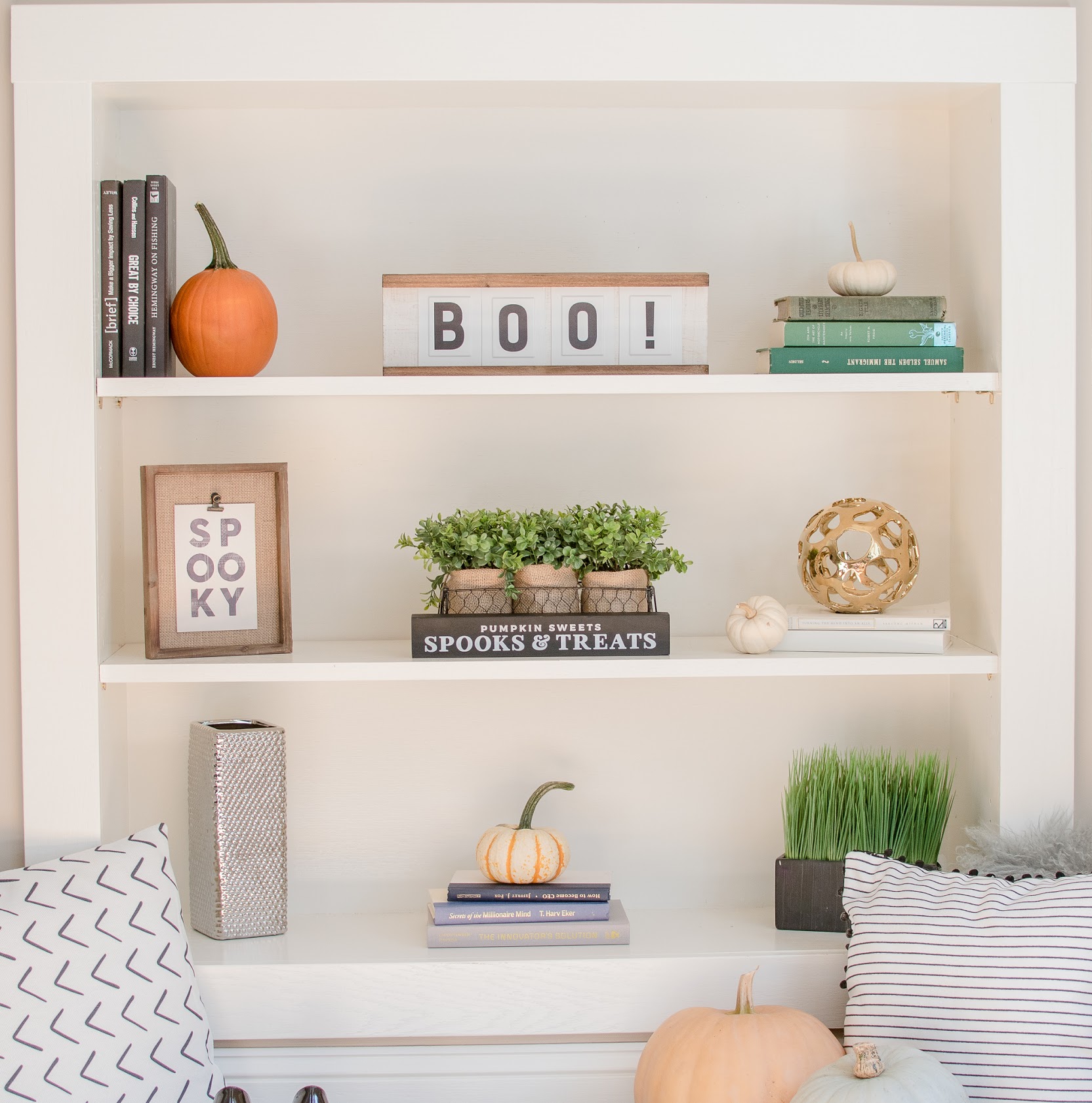 Diagonal Patterns
Signage This is another trick I use to make sure my shelving is organized and pleasing to the eye, and it has to do with how we look at areas. You want the eye to dance across the area, without seeing obvious patterns. Look at the greenery in this space for example, it moves from the top right, to the center middle, and down to the right again at the bottom. The black pieces flow from the top left diagonally to the bottom right.
How many patterns can you find in this built in? Use this trick with common elements such as woods, papers, metallic pieces and greenery to ensure the design flows just right.
When In Doubt  
If you ever find yourself stuck, do yourself a favor and pull all of your pieces off the shelf, or even out of a room before beginning. This is one of my biggest tips because it is important because we get caught up on what is already there. Instead, take pieces out, maybe you only need half of the items you have. You can always find new homes around the house for decor you no longer need, or maybe you find that you just need a little more! Focus on adding pieces one at a time and I guarantee you will have a better time with the design altogether. Still stuck? Send me an email and our team is happy to help you get your space to one you'll love. Email me personally at Chelsey@themamaguide.com or find us on Instagram @TheMamaGuideOfficial .