Quick & Easy DIY Plus Quilt & Burp Cloths + Free Patterns
– – – Scroll To View Gallery – – –
How could I possibly introduce my favorite sewing project that I have ever completed? Perhaps, the best baby gift that will ever be given? That will do.
I've made these for a friend of the family who just had their first baby! This last weekend I flew through this project; a gorgeous plus patterned quilt and matching burp cloths backed with oh-so-soft cotton chenille. I loved this project so much that I had to share it. This gift is so easy to make and sure to impress whoever cozies up to them.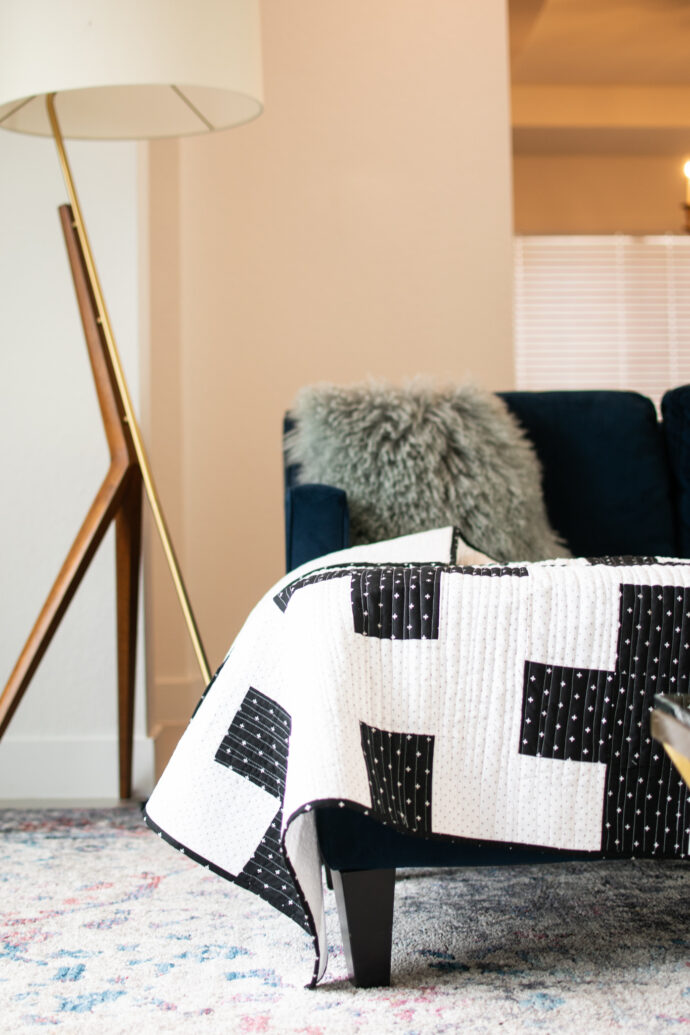 Burp Cloths – Finished cloths measure 8 x 15 inches each. Recommended for beginner to advanced sewing. Easily completed in just one day. You will need 1/2 yard of quilting cotton for the backing, and 1/2 yard of Cotton Chenille for the absorbent side. 
Plus Quilt – Baby sized quilt measures 40.5 x 49.5 inches. Beginner friendly pattern listed at the end of this post.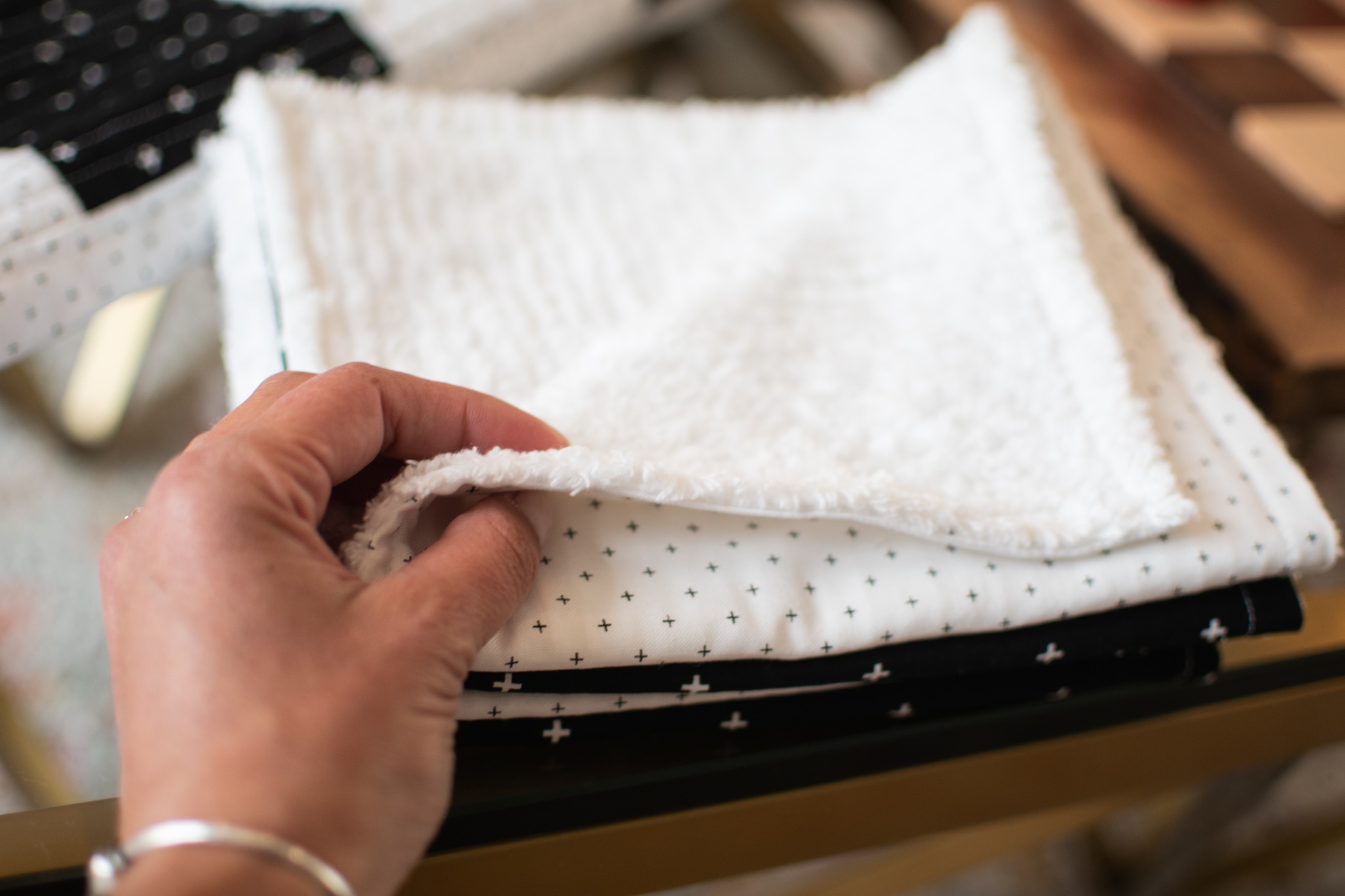 Selecting The Perfect Fabrics
Let's talk selecting fabrics. Often for baby quilts, we think characters or pastels, right? Not when I make them! After putting hours of love into a project I want to make sure that it will grow with the baby and never get tucked away into a nursery (or God forbid forgotten in the closet). This couple just welcomed their first child, and for my memories that meant lots of hours on the living room sofa with everything scattered about. I wanted to picture these pieces as a welcome addition to their décor that would never appear as clutter. This is where the neutral colors came into play with a sleek print that suits well enough to be an accessory. This gift is just as much, if not more, for the mother. Try to think of fabrics that will bring her joy in her everyday life as she spends time with her little one. 
All of these fabrics were picked up in one trip to my local Hobby lobby, with cottons costing $6.99 a yard and the cotton chenille more costly at $12.99 a yard. BE SURE TO WASH & DRY THE COTTON CHENILLE FIRST. The amount of fluff that will come from this single cycle is enough to cover a small lamb. Wash it alone on cool and tumble dry on a medium setting before sewing. You may find a cheaper cotton chenille on amazon, I do NOT recommend it as the quality is similar to that of a rough rug, not soft at all.
These burp cloths are a breeze to whip together, you'll want to make them for everyone! Below is the free printable PDF pattern. Instructions are also included. Be sure to tag me on Instagram or Facebook with your finished ones! To assemble the cloth, simply cut one piece of quilting cotton and one from the chenille cotton using the pattern below. Sew wrong sides together with seam allowance 1/4 inch leaving about two inches open at the top as indicated in the pattern. Turn right sides out, press, and topstitch opening closed. Easy!
FREE BURP CLOTH PATTERN
Printable PDF Burp Cloth Pattern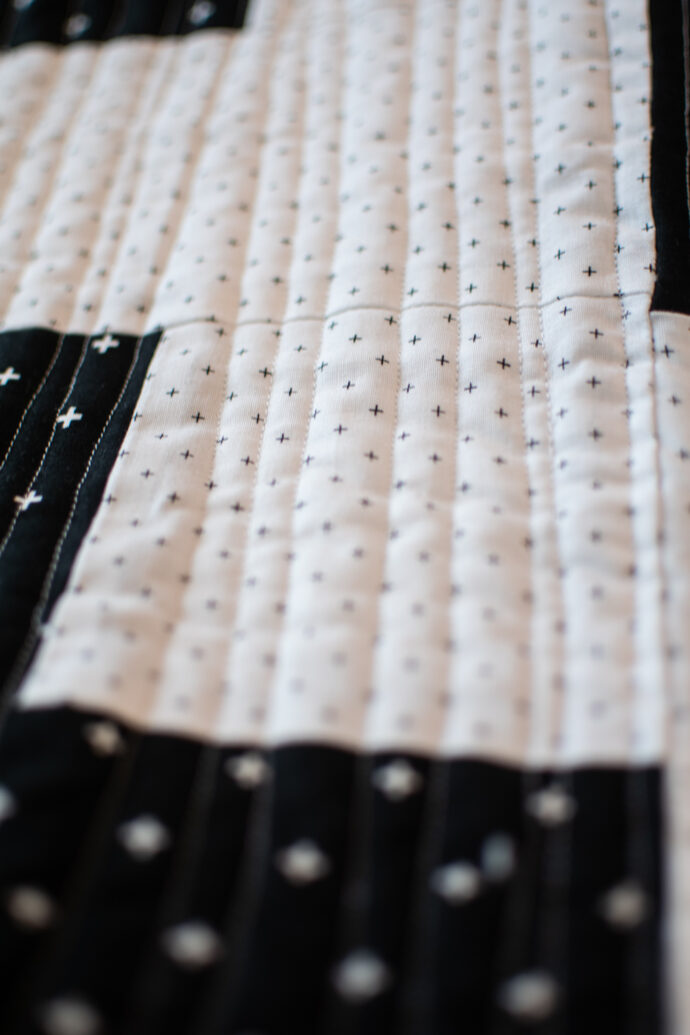 The plus quilt is now my absolute favorite quilt pattern that I have ever sewn! The assembly was so quick, fun, and the end result is beautiful! In any color, you can truly change the feel with a quick switch of fabrics. I will be making more! For the finished quilting I chose to use wavy lines in varying widths. I feel this gave this project a more youthful feel to keep this modern piece in tone for the baby. Also, it helps to hide any imperfect corners that don't line up, it happens. 
The Pattern Is Made By The Amazing Coral & CO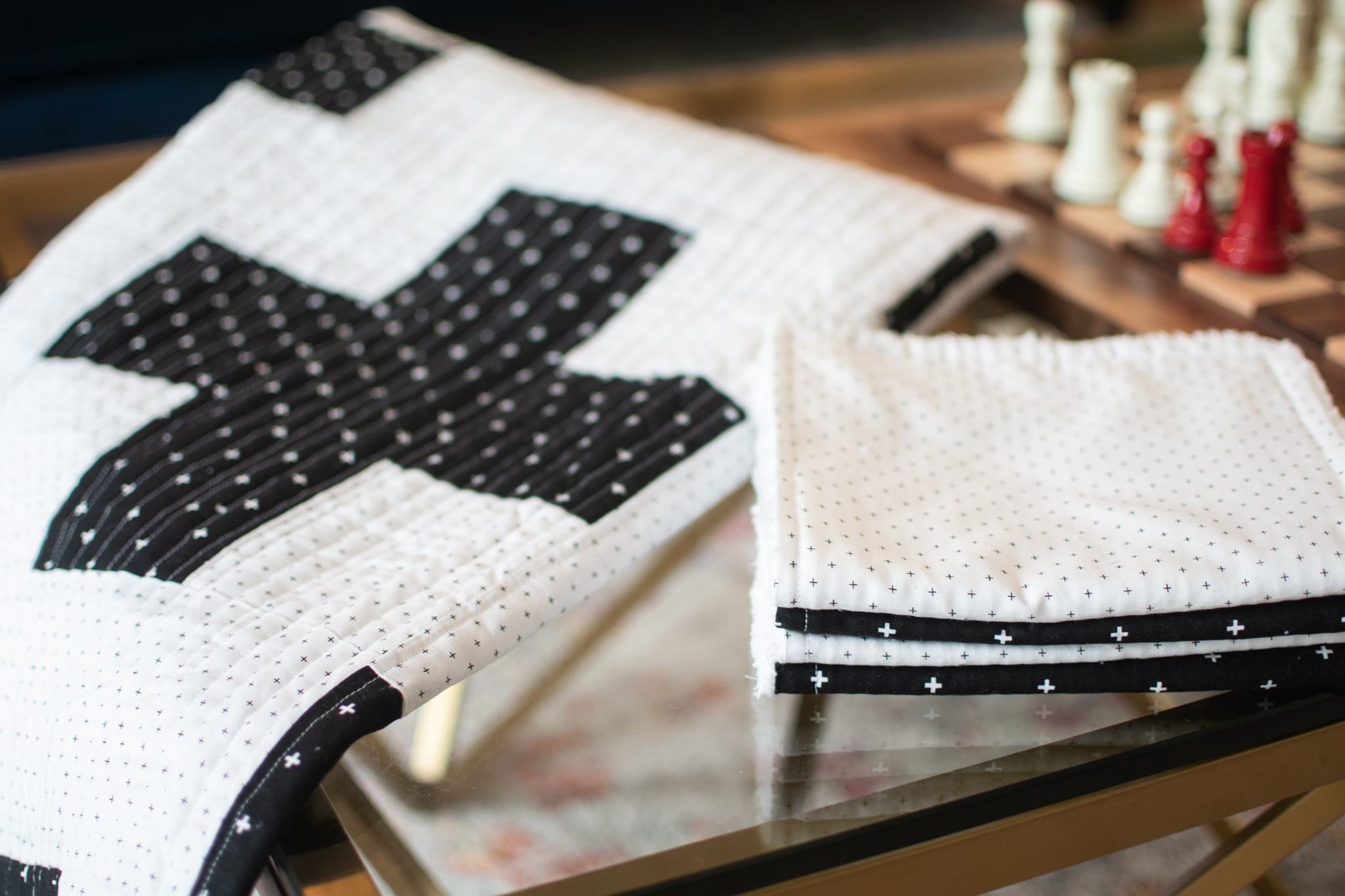 This quilt would be great in any color and soon I will be trying it with an antiqued looking fabric. I can't wait to see the whole mood change with different colors and more. Be sure to Follow me on Instagram & Facebook to stay updated on future products, and now, patterns! I am happy to announce that I will be expanding the blog to more DIY patterns just for you. New to sewing? No problem they will all be beginner friendly. See you soon!
Xo -Chelsey