How to Throw an Amazing Yet Easy Party – Free E-Book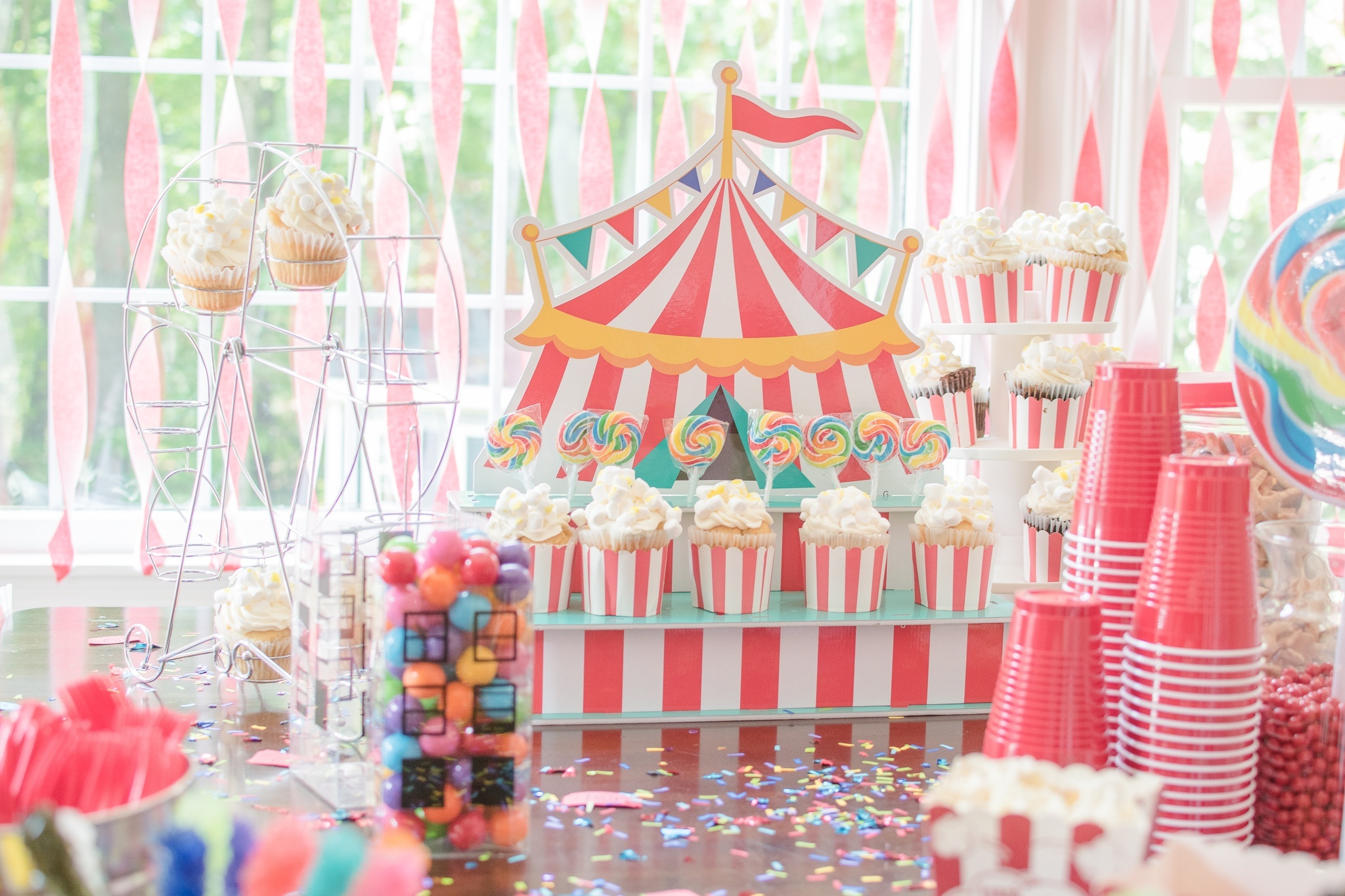 What's in a Good Party?
We throw parties to mark a momentous occasion, or for someone special to us; but really good parties mainly have the guest in mind. In days when we are all too busy, when we truly slow down and come together, our parties are our thank you to those we love. Throw a party from that perspective, you're guests (and you!) will walk away with a memory of an experience, not just a gathering. Here are three things to keep in mind when throwing an amazing party your guests will leave raving about, plus the full 20 page E-Book outlining all my party secrets below!
Decorate For Experience
Before you look up and around for areas to decorate, make a plan with experience in mind. Where will beverages and food be served? What tables will be the focal point? What will guests see when they enter your home or party location? Focus on those areas to make decor go further. My tip, utilize inexpensive balloons, candy, and streamers in modern ways to make your decor dollars stretch.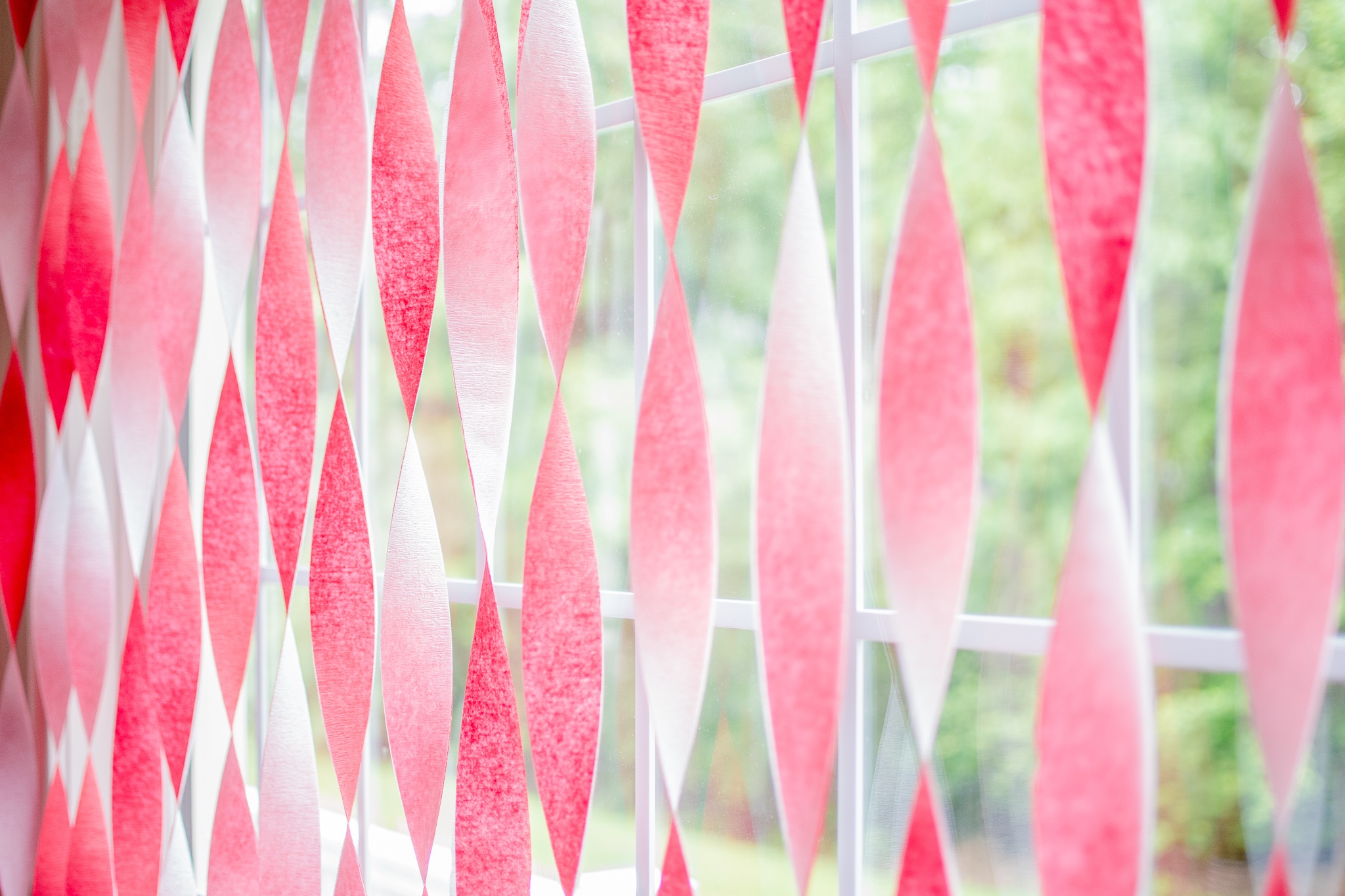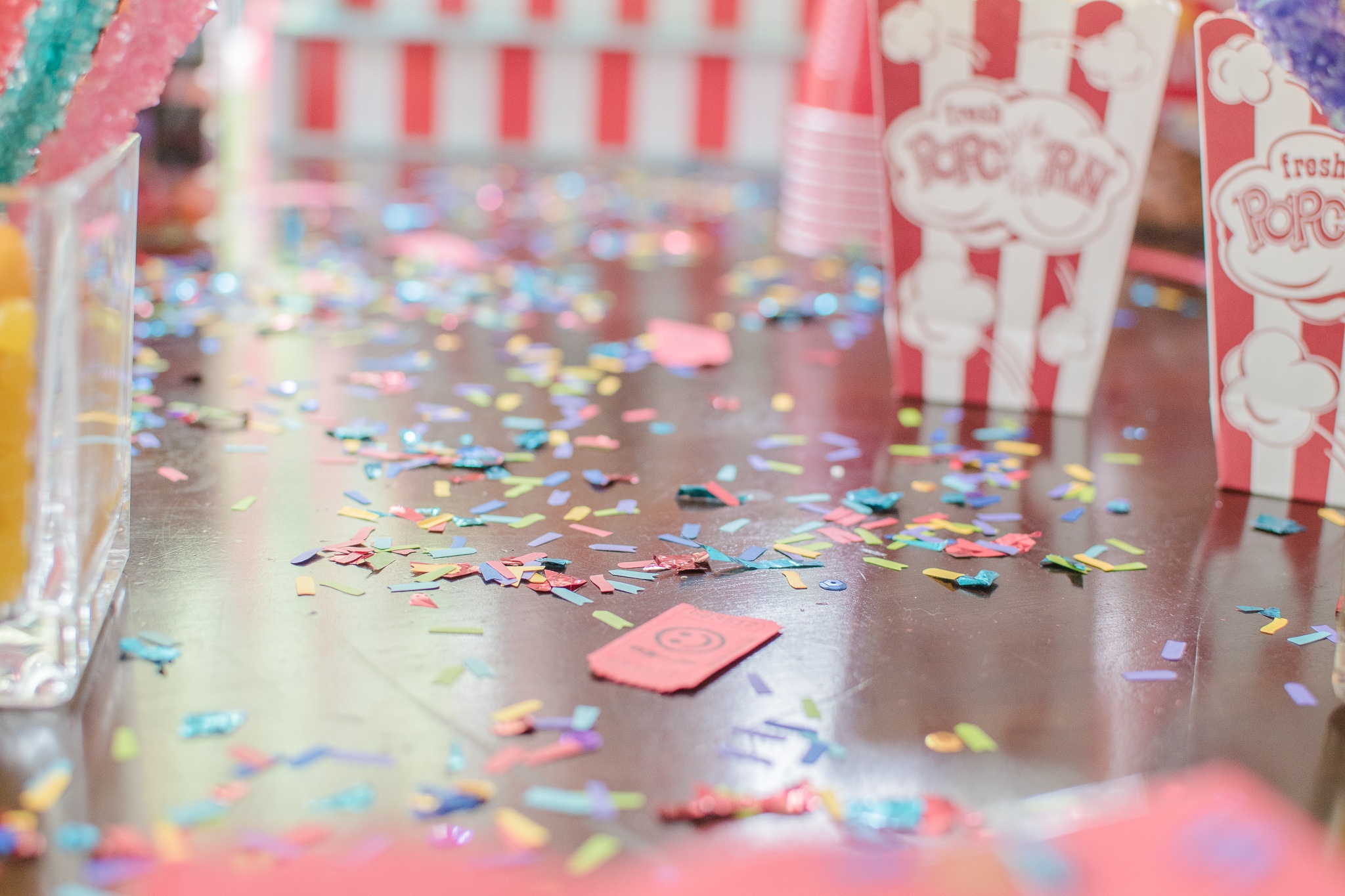 Themes Are Everything
Pick a theme, but do it right. Your theme should set the tone for your decor, your invites, the food you serve and more. The difference between a chotchky themed party and a beautifully designed one, is to keep imagery or characters at a minimum. Add variety to your color scheme, keeping true to your main idea. How do we do that? Instead of everything being red and white striped in the circus party we threw, I added pops of color in subtle ways. Look at how the confetti subtly introduces new colors, stands, or food. See how the candy colors compliment the predominant red and white stripes, yet add to the theme? If you're throwing a character or print theme, what NOT TO DO, is have every item with that one character or print. For instance, if you're doing a purple unicorn theme, add two more complimentary colors to your napkins, cupcake frosting, maybe the balloons or streamers! Have at least three colors introduced, three is more pleasing to the eye. Also, think of elements that add to the experience of the theme. I had tickets everywhere, to really make the party carnival/circus like.
Basically, pick a focus of your theme, and add complimentary colors and patterns to add depth and avoid a dull repetitive decor theme.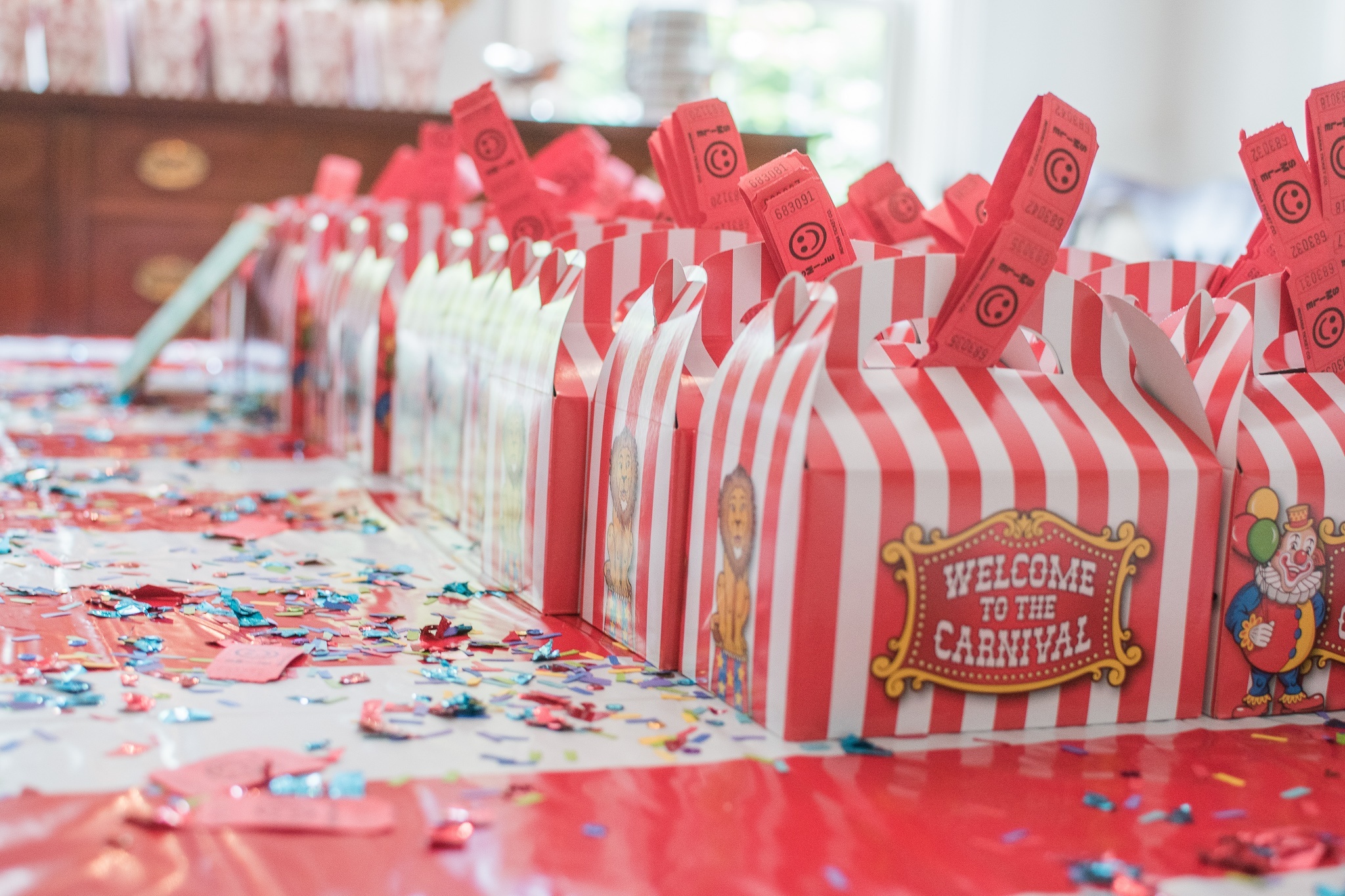 Fun For Kids & Adults
When your guests arrive, get something into their hands! Drink- check. Food- check. Favors? Yes- check! A great party is when the adults and the kids can both have fun! The biggest challenge is allowing parents to relax when we're all chasing our littles around. Give favor boxes to younger guests when they enter the door. It helps to keep them busy while Mom & Dad unwind, grab a beverage, and say hello to everyone. Especially for shy kiddos, they'll have something in their hands to focus on instead of being overwhelmed by a big crowd of strangers.
Bonus: Have kid safe areas where the little ones can wander and collect more goodies for their boxes, just in sight of where parents can relax. 
Self Serving Yet Cute!
One of the BIGGEST LESSONS I learned for throwing a flawlessly easy party, was to not over-host! What does that mean? It means having a ton of guests and running around like a chicken with your head cut off. Ha! 
If I could go back in time, I would teach myself this little secret.
  Create multiple self-serve stations at your party, Ms. Chelsey! But they have to be inviting- instead of 'buffet boring- like this host is lazy' like. 
How do we do that? Make these stations cute, and part of the experience! Add little details that will wow your guest and make the experience more fun! How cute is this popcorn station?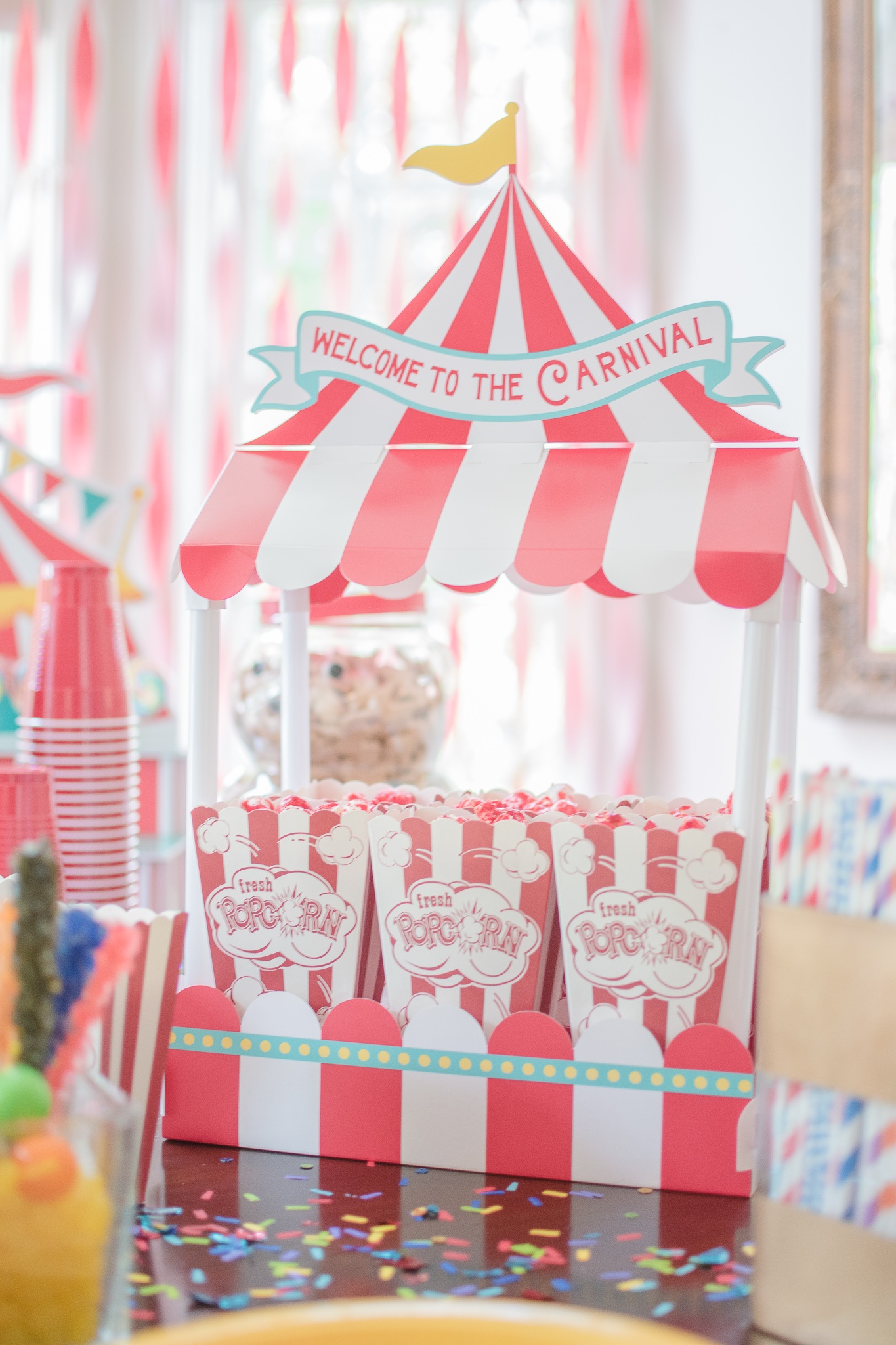 Separate your stations so that guests don't overcrowd an area, and make them easy to grab! For this party I had a two snack stations, a juice/soda/water spot, an adult beverage dispenser inside the kitchen (away from little kids' reach) and the main meal was served in another area.
Make each area special, with decor, or options to customize their needs. For drinks, add colorful straws, beverage napkins, and garnishing options. Little slice of lemon and a sprig of mint, yes please!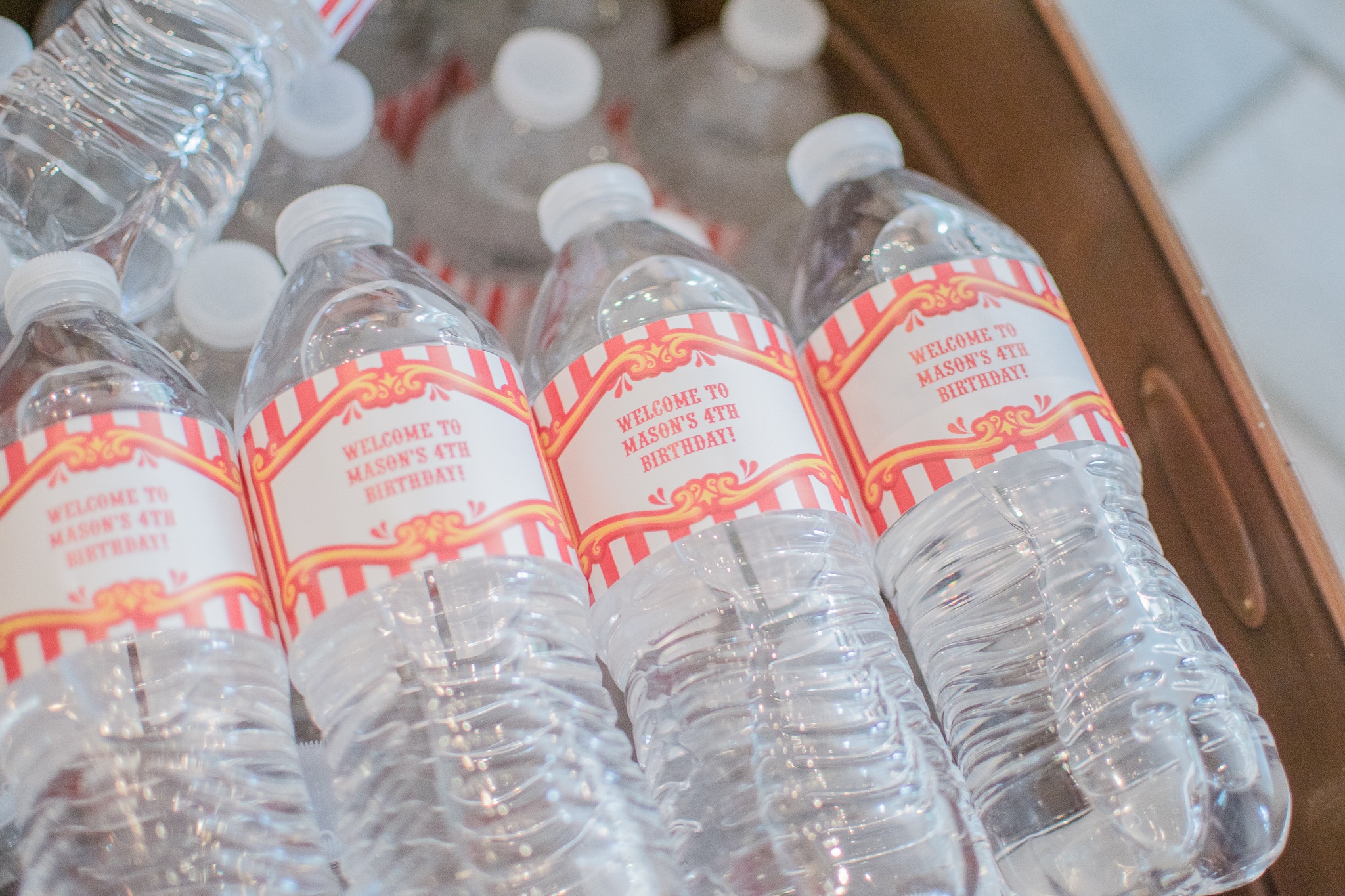 Every Detail Counts
Little details make a big punch! You don't have to spend hundreds to customize elements of your party. My favorite custom go-to for every party are custom candy bars and water bottles. Even my invites are custom designed to match the party. It's easier and less expensive than you would think! To find out how to customize your party for that extra WoW factor, download the Complete Party Guide!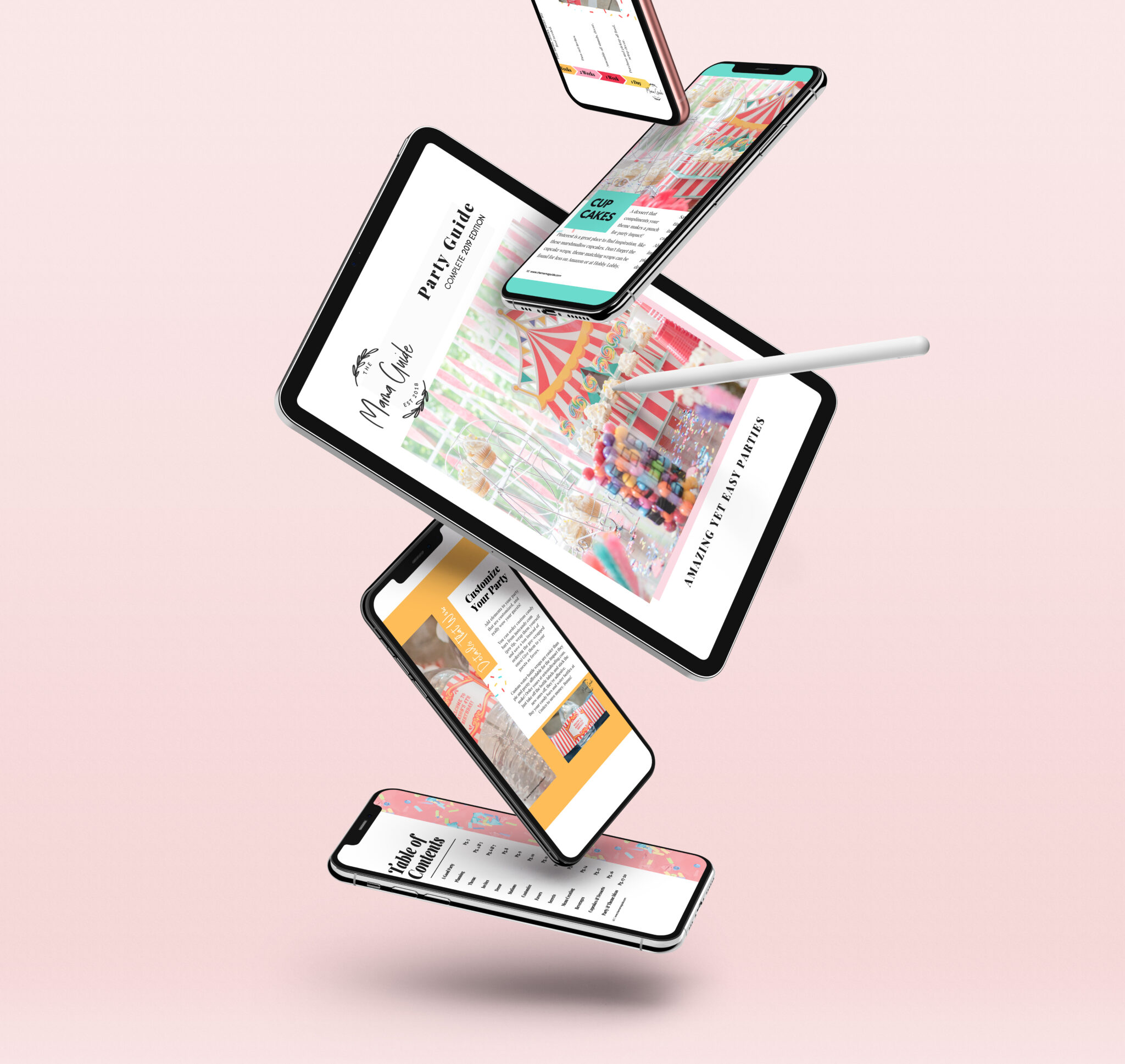 The 2019 Party Guide- Complete Edition
A lot goes into planning a party, but to make it easy I broke down all of the details, into an easy to navigate Party Guide- 2019 Edition. 
The 20 page guide has everything from 
A full schedule breakdown for when to start planning, how to schedule your planning and more. 
Want more insights for how to theme your party, and ideas on how to incorporate your theme? Check out ten party theme ideas with inspiration for how to craft your own theme! 
Where do you grab your decor, for less? All my decor secrets are inside!
Learn where to go to customize and create your very own invites, water bottles, and even candy bar party favors. 
Download the 2019 Complete Party Guide E-Book
The Complete Party Guide E-Book is usually regularly listed for $14.95, grab the whole 20 page edition for free for a limited time. 
Download your E-Book free for a limited time, and let me know what type of party you plan to throw? No idea? I have included three pages full of theme ideas, plus a full menu design to inspire you for your food choices and more! Make sure to tag me when you throw your parties to be featured on the blog and on Instagram or Facebook! Can't wait to celebrate with you! 
Happy Party Throwing,
Xo, 
Chelsey <3