Easy Summer Gift Basket – Lemon Theme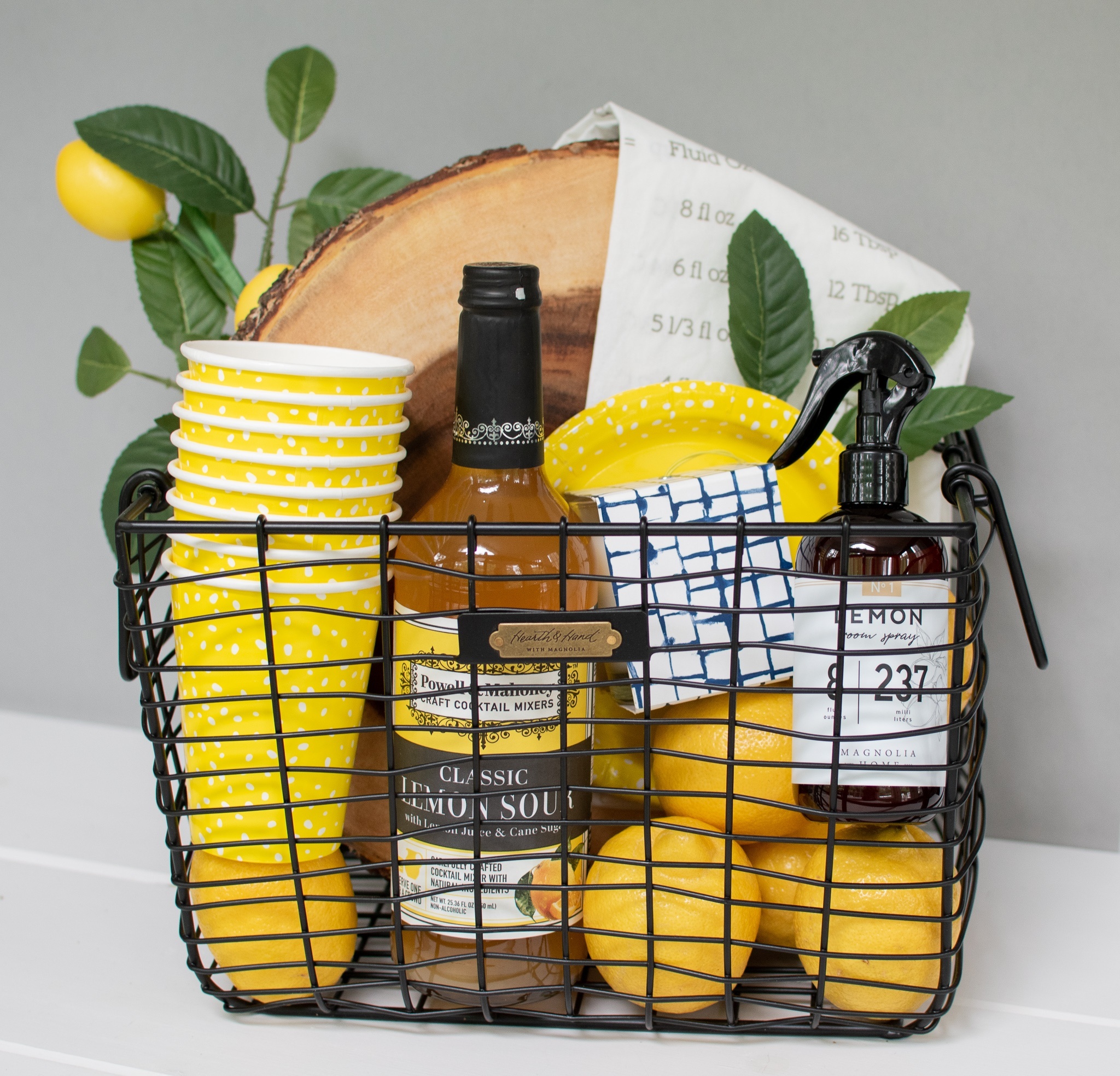 Someone is going to have to stop me this summer because I am in full-fledged lemon obsession. Absolute lemon addiction over here, not even ashamed! Lemon dresses, sewing lemon skirts for my kids, and now.
Lemon gift baskets. Woop!
This summer they are so on trend, along with flamingos, but that's another post you can check out HERE. But this post is all about putting together the most perfect gift basket, that really says thank you. There are a few different elements I have in any basket that I'll be sharing down below, keys to follow, and how to make your very own like this one. First, let's dive into what I used.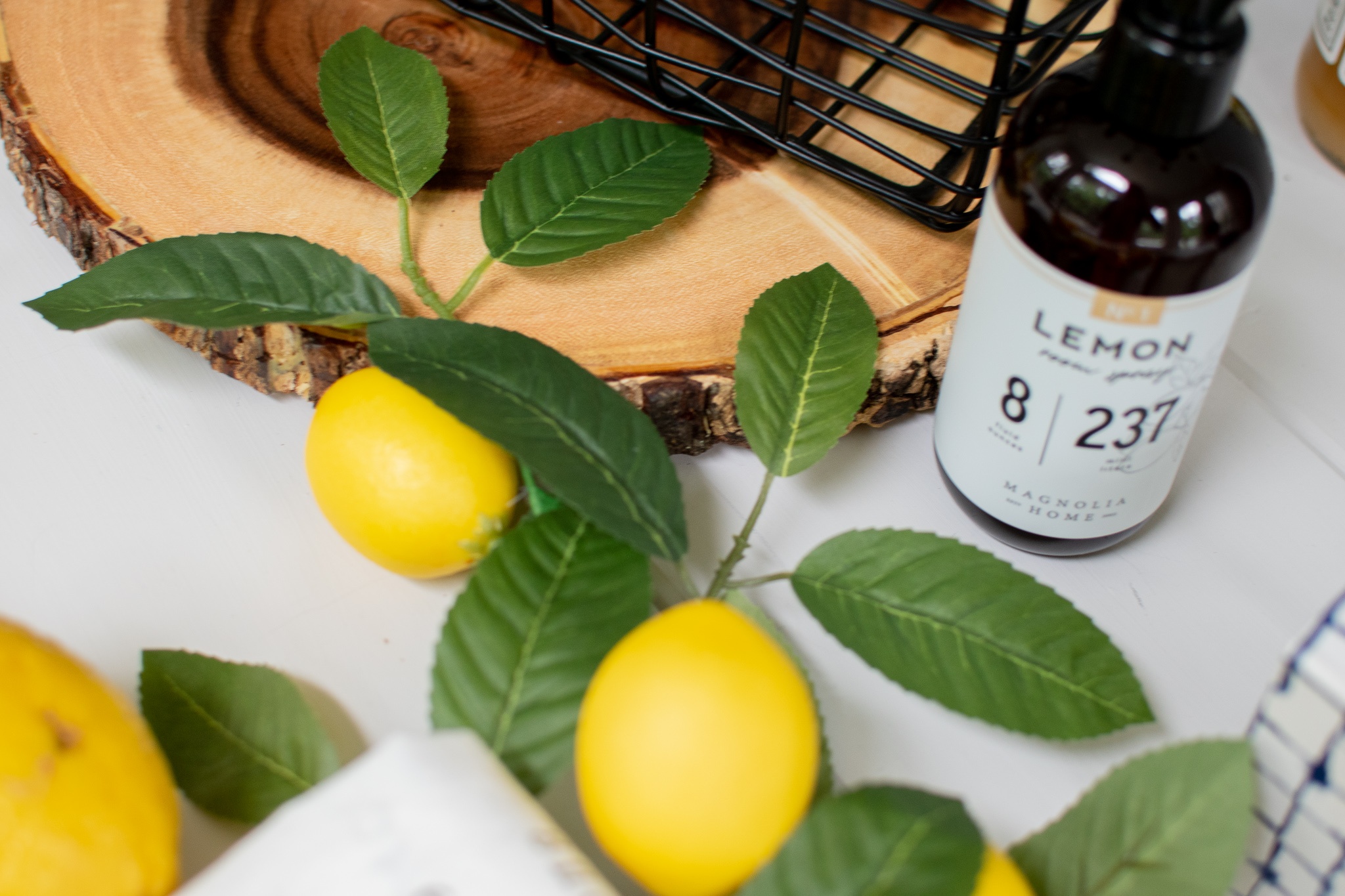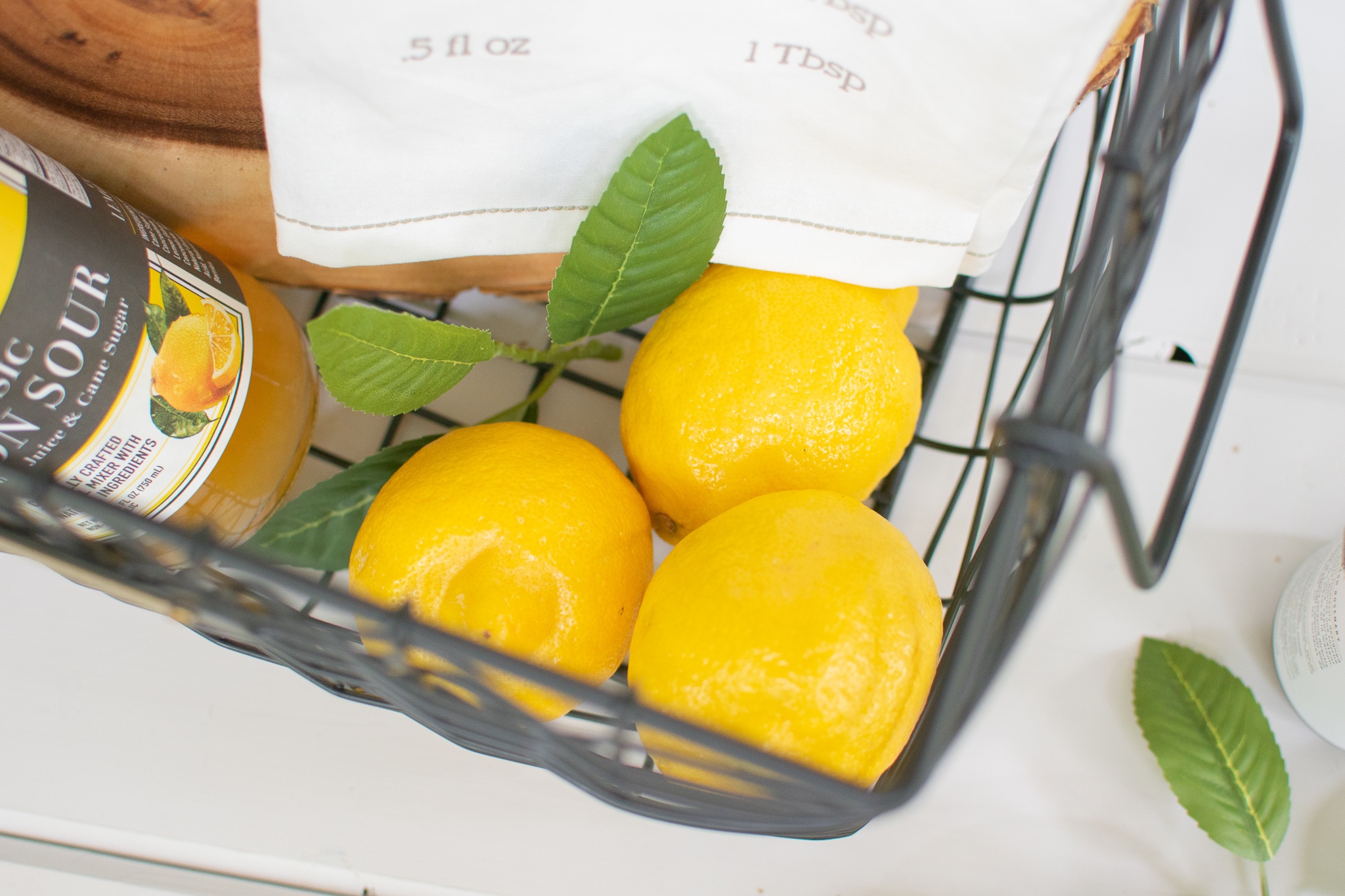 What's Inside A Cohesive Gift Basket?
If you've followed along before, you know I'm all about themes! They make it easy to tie everything together for a cohesive look, for anything really. This basket is obvi a lemon theme, but colors are important too. Think about these three aspects for theme creation. 
Colors
Odd numbers are always the rule, you should opt for 3, or even five colors to create a balance that is pleasing to the eye.  This basket was easy, lemons are yellow and green. But what about the third color? There is a secret trick to cohesive design, it doesn't always have to be a color. I opted for "neutrals" for the third element of color, and that means a mixture of textures. So we have yellow, green, and neutrals.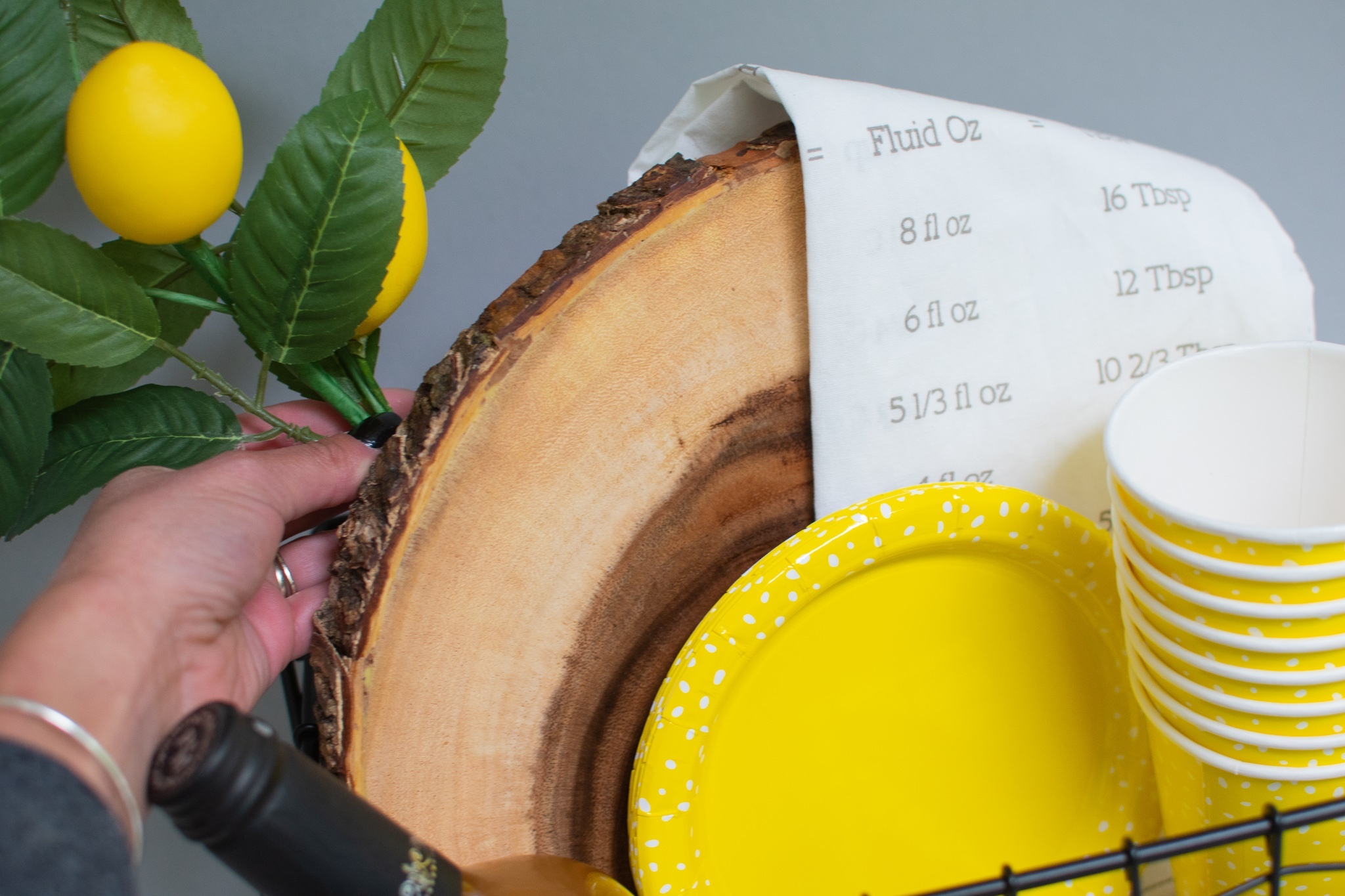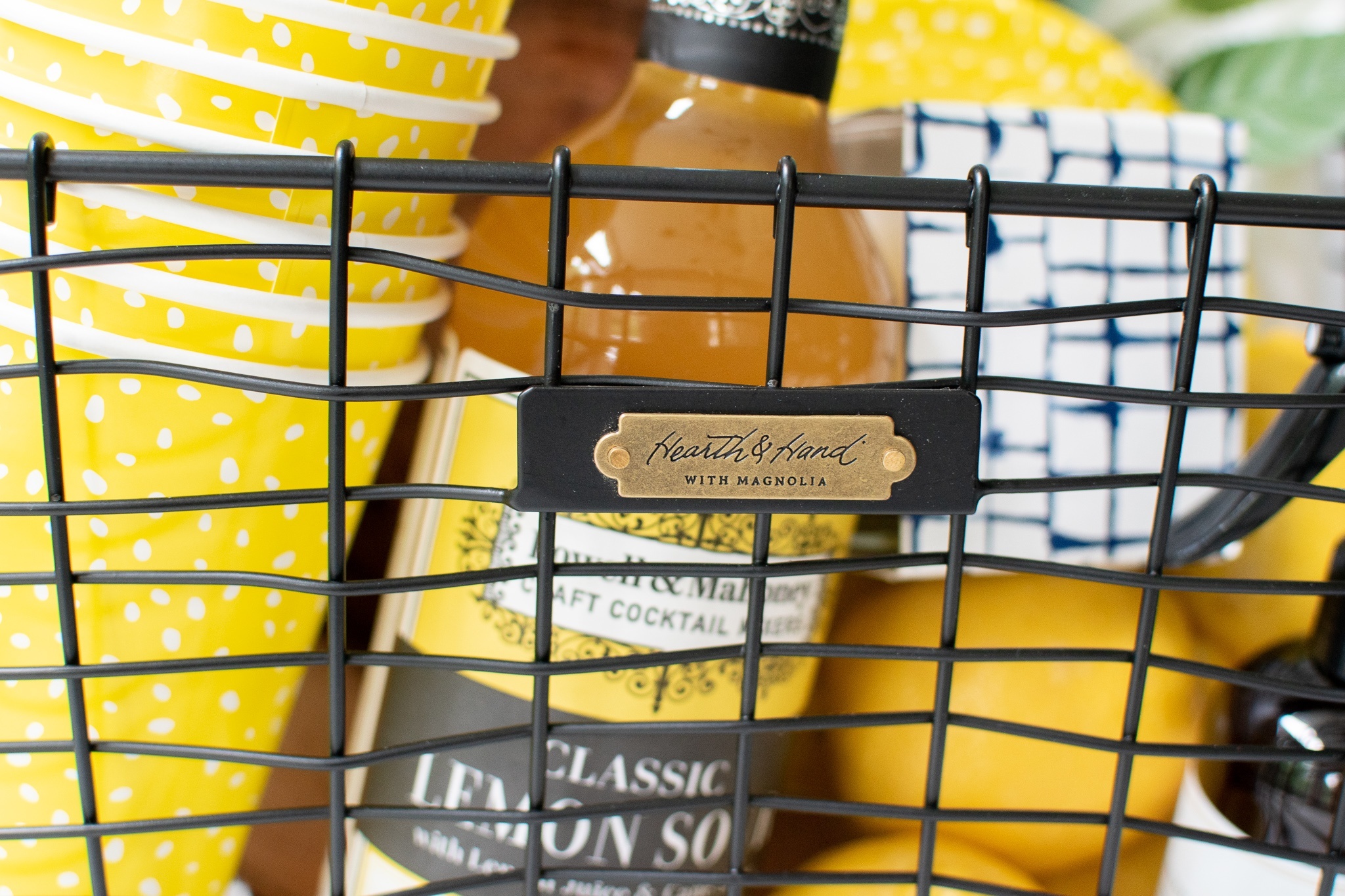 Mix Elements & Textures
Another secret to a smooth design, for anything, is to have a good mixture of textures. Don't try to be too matchy-matchy. Think metals, woods, papers, linens, organic elements and greenery, plus glass! So long as your colors are complimentary, a limited amount of color pops with the remaining colors as a neutral, you can mix textures to your heart's desire. Think about the types of textural elements as well, this is a very old-school medicine cabinet style texture mix. We have the old dark glass for the room spray, vintage-like tea towel in blacks and whites, a black wired basket, it's all in a theme of style as well. If that starts to feel overwhelming to you, just step back and ask yourself if any of the textures together look out of place. That's why themes are so helpful, they give you a starting idea to flow with without question. 
You'll hear the word theme out of my mouth a thousand times, it's because that's the easy sauce that makes things mindless. When selecting your items, think about the usefulness and what purpose they will serve. Make sure the items you put in the basket can actually be used- not just pretty things that will sit in a closet.
Find a basket that can be used for multiple purposes, I loved this one from Magnolia Homes because you can display it on a counter, use it for a picnic, or for the obvious- storage purposes like in the laundry or powder room. It's pretty. If you choose a colored basket, think about the recipient's home decor style and where it could go. When in doubt, stick with something classic and let the items inside shine. 
You can make baking baskets with spatulas , napkins, and matching cupcake liners. You could do a market fresh basket with tea towels, lots of fresh veggies from the farmers market and specialty olive oils. Even a wine inspired basket with a cool bottle opener, your favorite red, and grilling seasonings to pair. When in doubt, just focus on how you imagine the basket being used.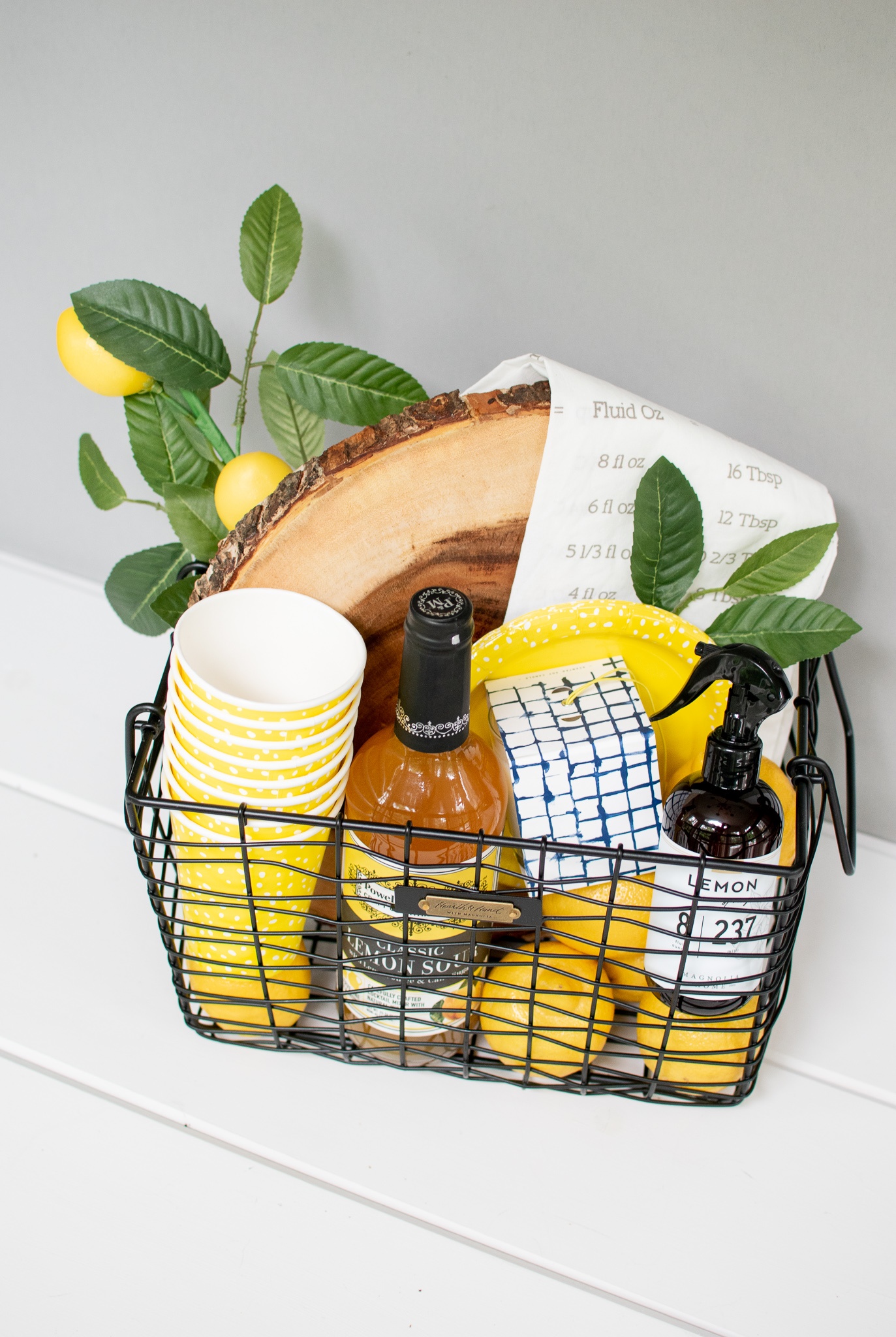 Final Touches & Final Thoughts
Everything needs those final touches, the little details make everything shine. Like sprinkles on a cake! Or a sprig of lemon and leaves for this basket. You can add a lot of little and inexpensive details to wrap up a piece. This basket was pretty large, so I filled the bottom with lemons, instead of tissue paper or such. Balance out the height of items on top with artificial or fresh greenery, see the lemon sprig on one side to balance the wooden plate? All about that balance. 
Head over to your local Hobby Lobby for some details to fill your basket if you can't find one at Target, like I did. 
Remember: Every other week at Hobby Lobby is 50% off all faux florals. Pick the right week!
Remember, don't be shy! If you have any questions or want help on your project, feel free to message me! Hit that contact field up top, or message me on IG. 
Happy Summer!
Xo, Chelsey