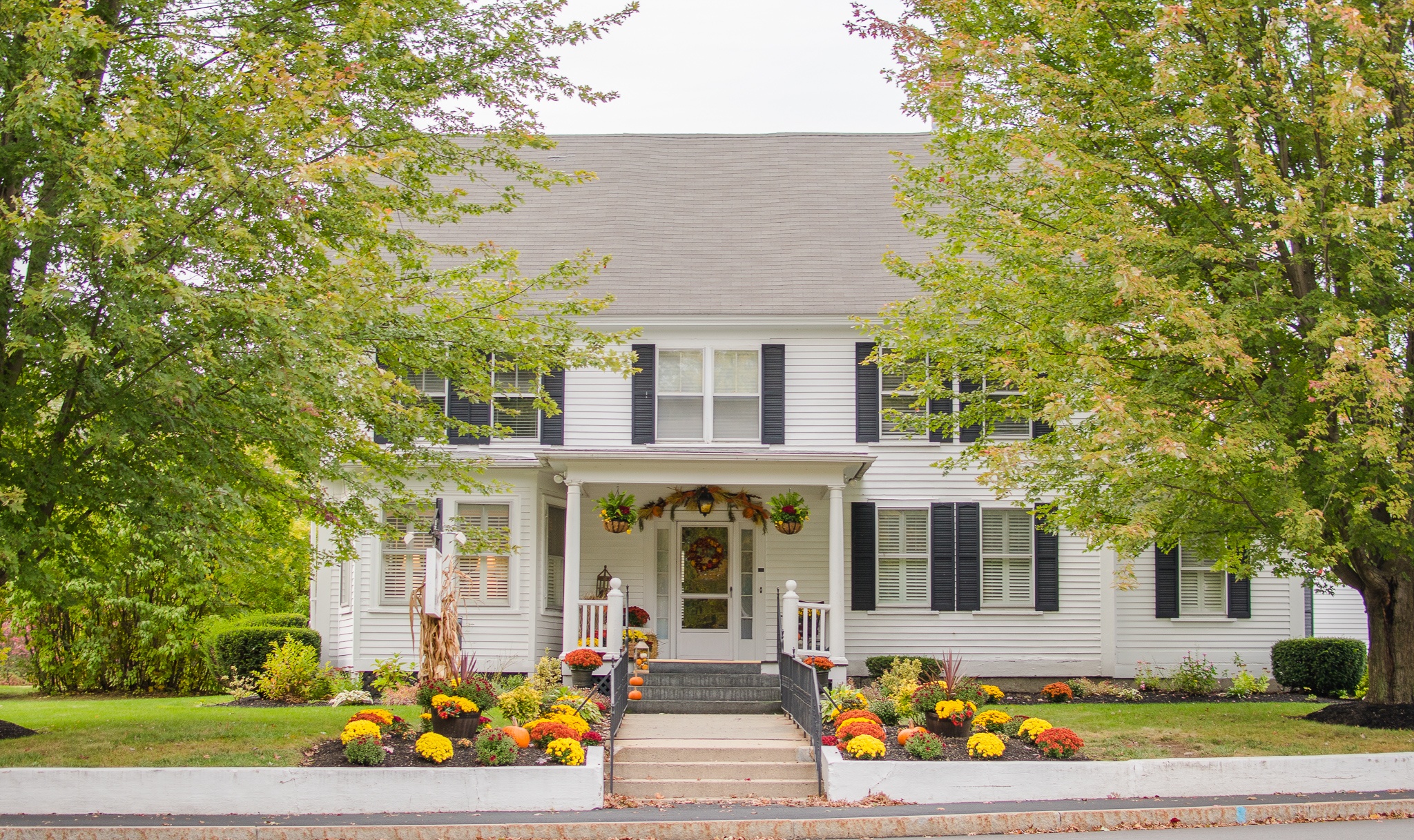 10 Stunning Fall & Halloween Front Porch Decor Inspirations
It's here, Fall is here! I think fall is always a favorite because it's cozy. It is just warm enough to not be miserable, but just chilly enough to snuggle up and enjoy the beautiful vibrant colors that mums and the trees give us each season. It's actually one of my favorite reasons for moving to New England. Driving becomes a magical show with orange, red, and yellow trees alike. Don't you think? 
This fall, I am especially in love because I am surrounded by gorgeous porches, like TO DIE FOR porches and antique homes stripped from magazines it seems. I just had to stop, snap, and share. These won't be the last photos you see, so be sure to subscribe for more decor inspiration! Anyways, let's get to the inspo.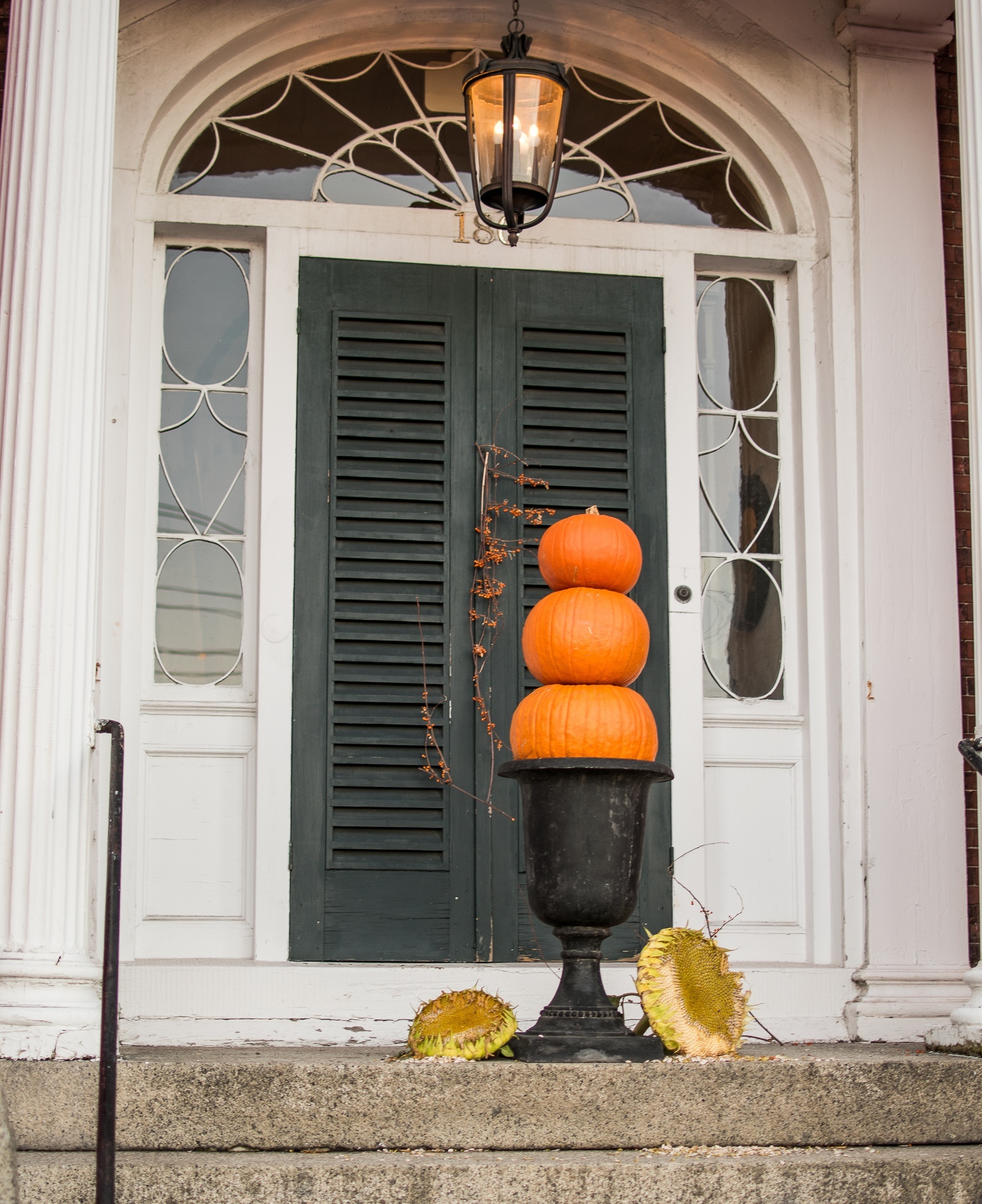 The Antique Pumpkin Stack
The simple elegance of stacked pumpkins make a towering statement. Perched inside an urn, this is the best example of the important of height in decor. Dried sunflowers compliment the piece with an aged nature to match. You almost miss the Ash tree branch in the back which gives depth to the porch. Against the shuttered antique doors, this simple piece makes the age of the home more charming, the neglected paint is almost romantic. I captured this photo in Salem, MA. One of my personal favorite towns in New England.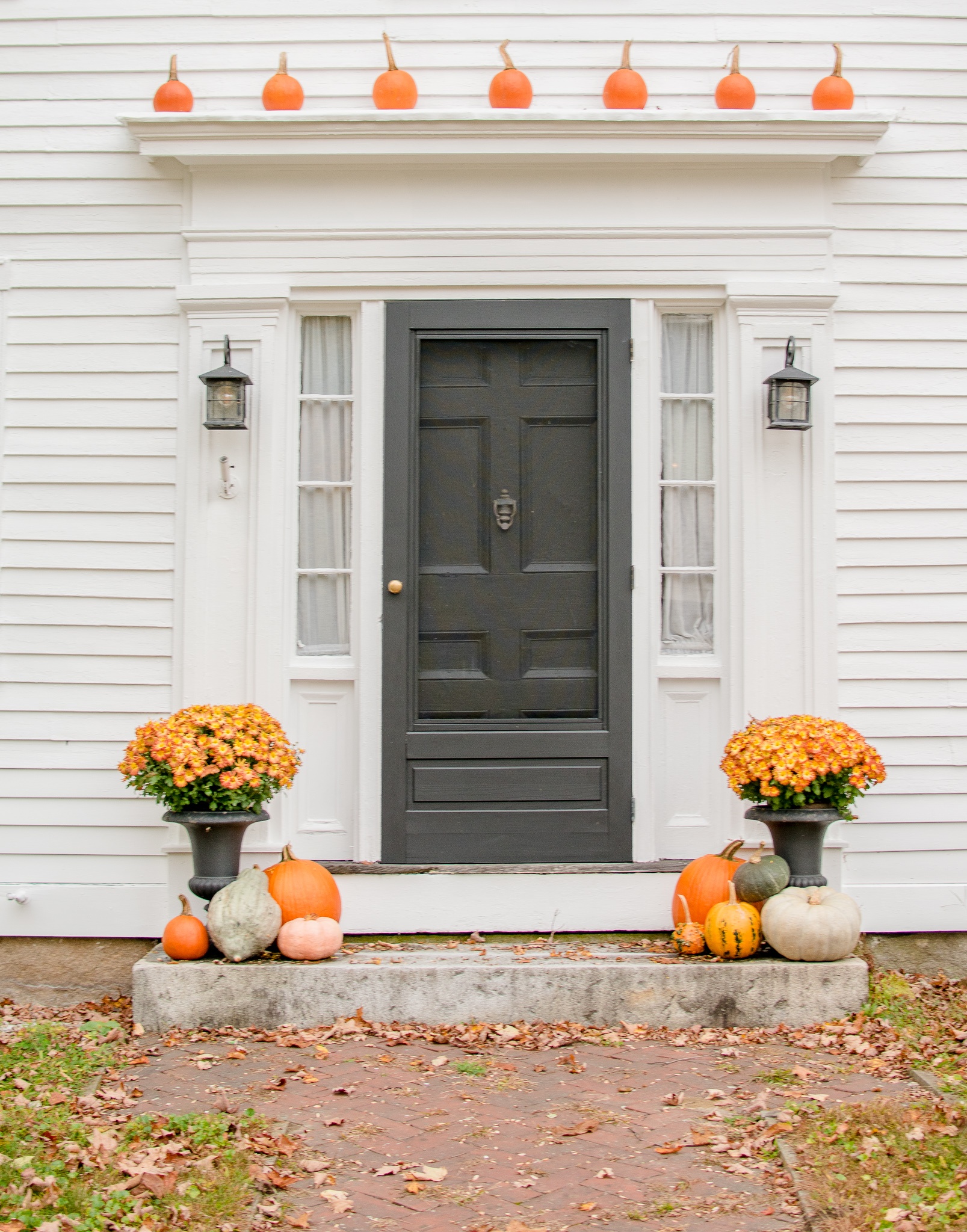 Doortop Pumpkins Rows
The most charming New England trend is popping up across the east, with rows of pumpkins above the door. This is the perfect compliment to typical bare-faced colonial homes. Often, without much space for decor, a perfect way to add cozy and charm.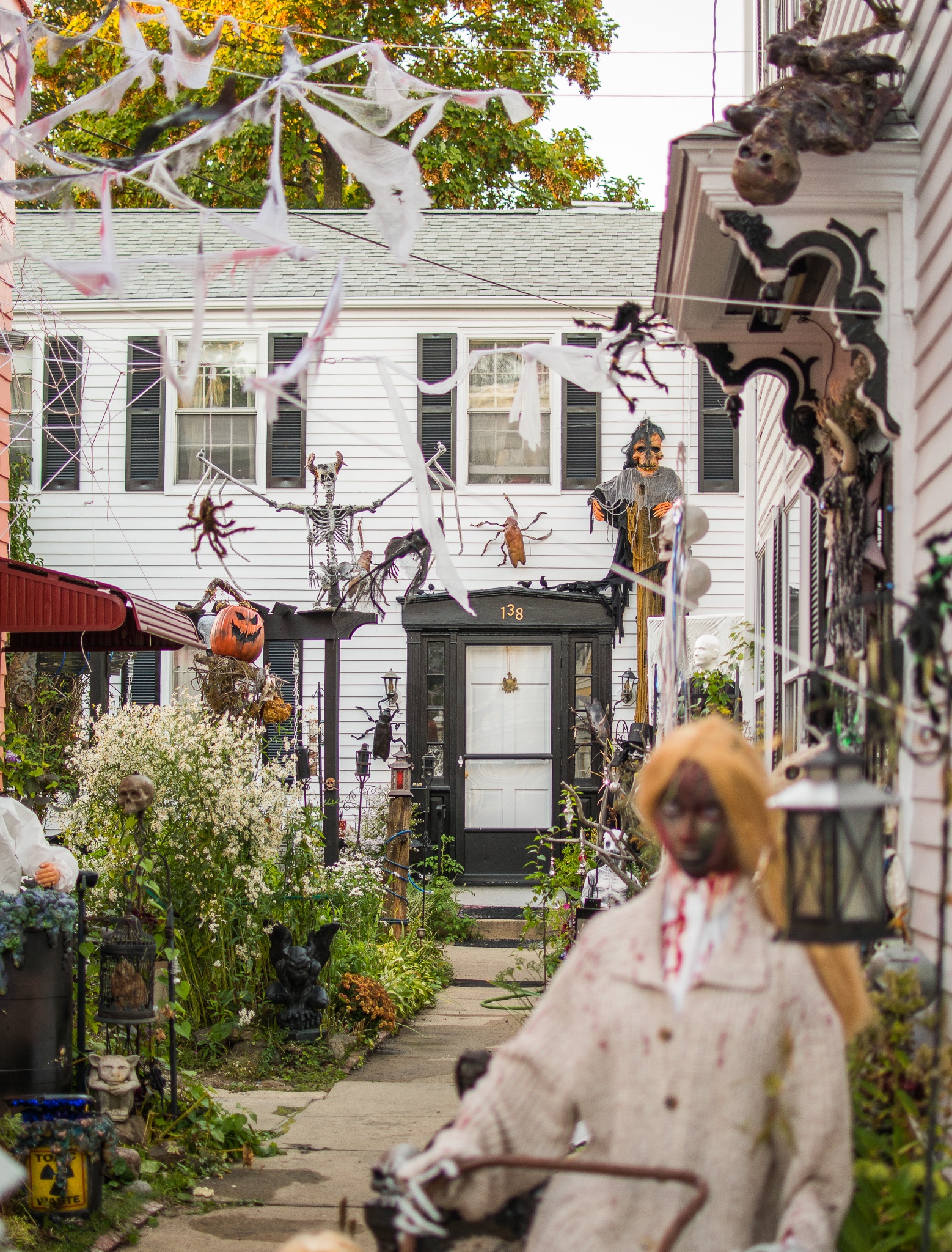 Salem's Famous 136 1/2 Derby Street
You won't want to miss this famous little alley house perched behind the floral shop. The spook filled yard screams Halloween at the beginning of each Fall. What else would we expect in Salem? Each year the yard changes with fresh ghoulish scenes. You won't find sprawling mums, but you will get all the holiday feels.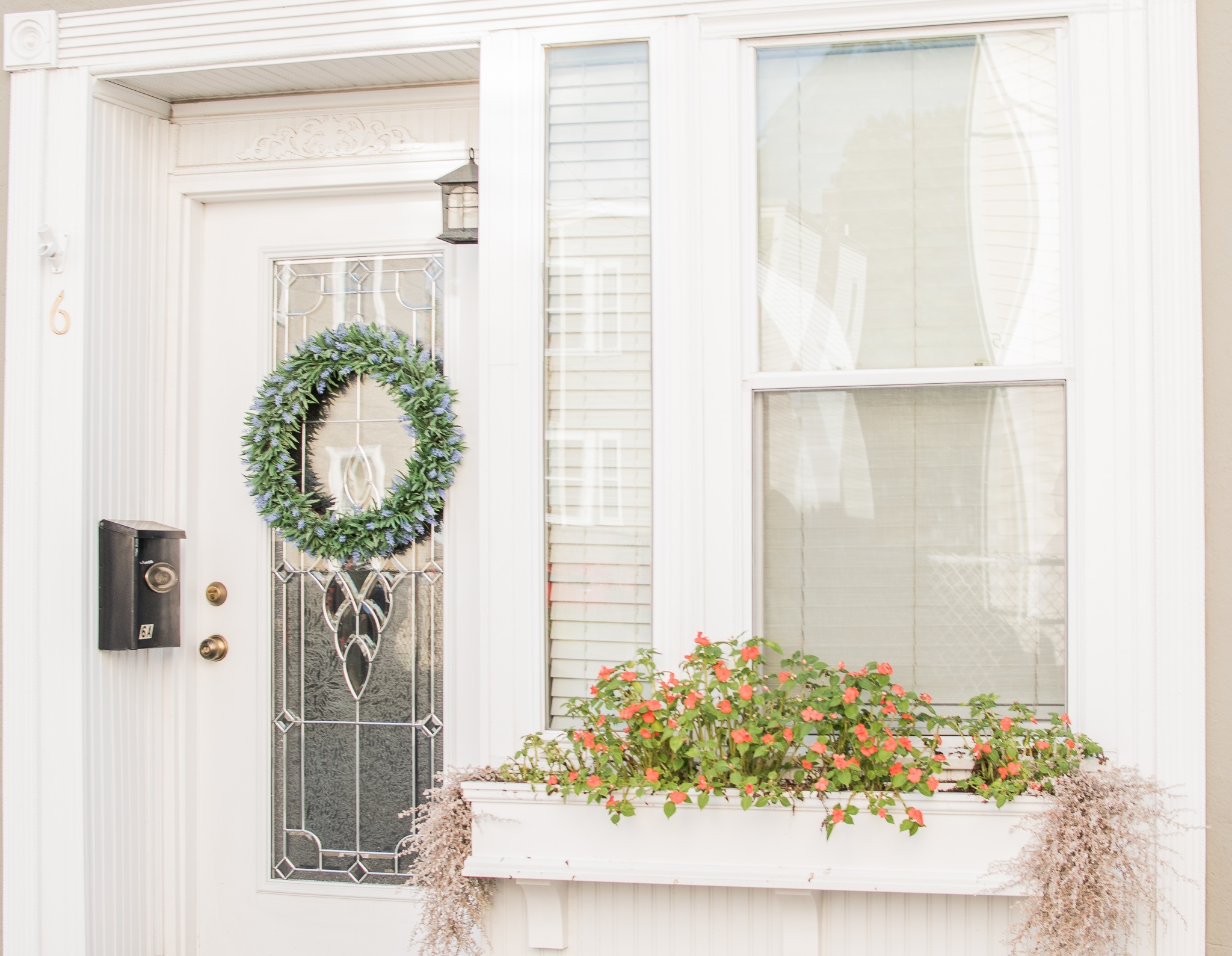 Farmhouse Neutral
Pumpkins arent for everyone this fall, and farmhouse trends are still rolling into homes. This bright and cheery small entrance makes quite the punch with bright greens and autumn colored pops. A flower box and a well placed wreath can always go a long way.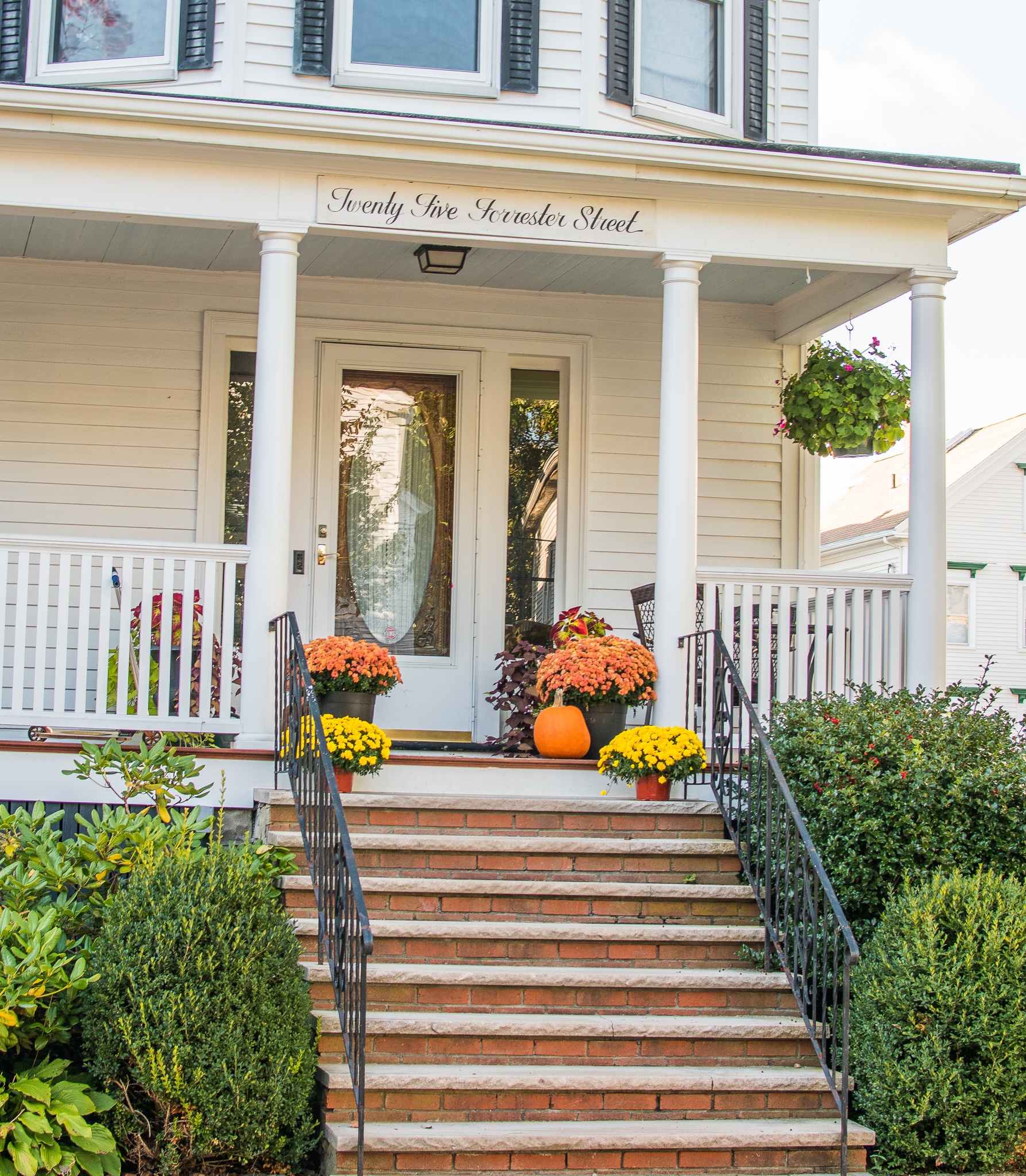 Let Us Spell It Out For You
You can't really go wrong with the classics, whether you stack, bunch, or pile them. This adorably addressed home keeps Fall simple, and let's their porch shine. The simplicity echoes into the white scape and framed perfectly pruned greens. It proves that it doesn't take a lot to make the neighbors stop and stare.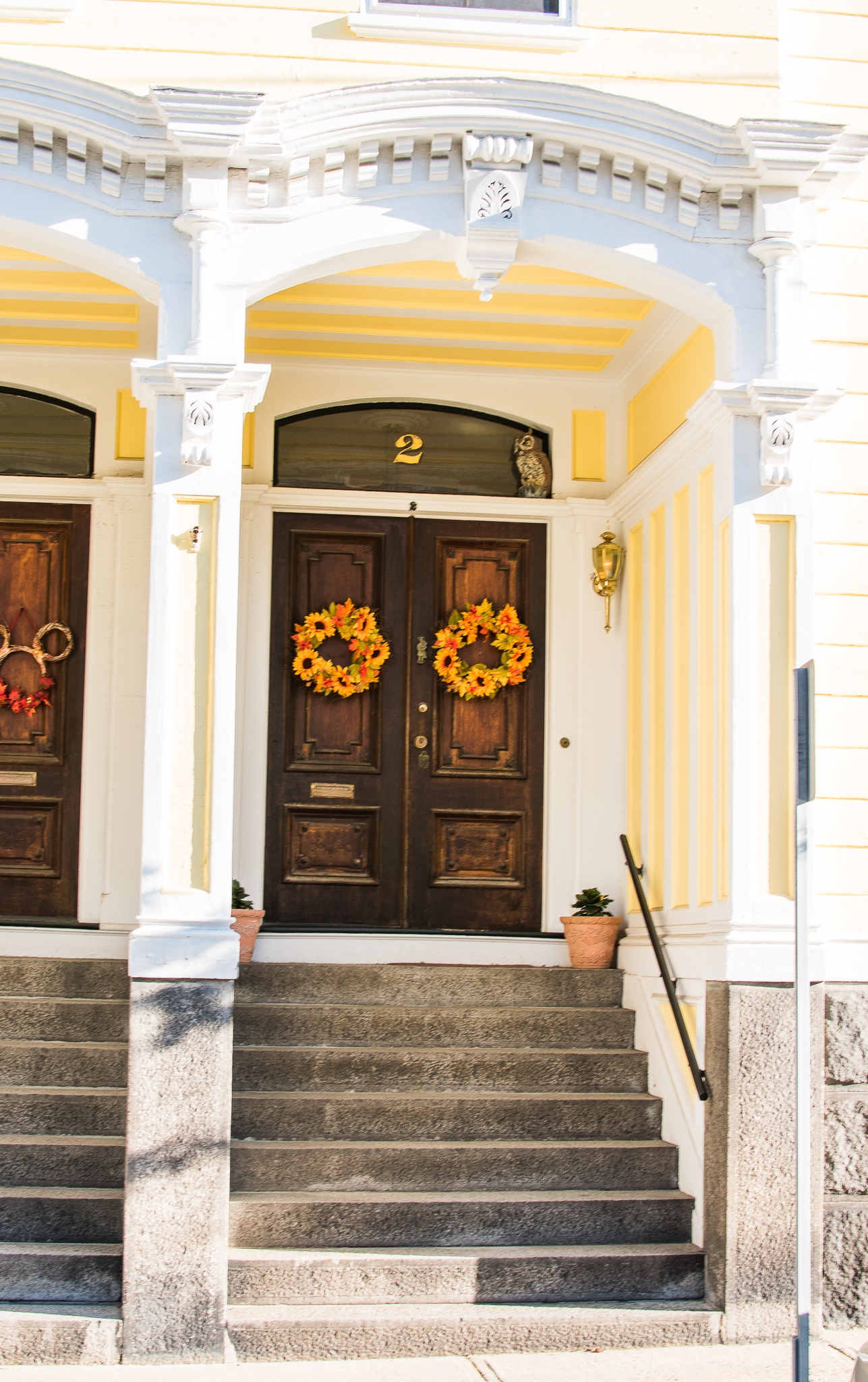 Sunflower Sunshine Glow 
What better way to come home than to this glowing, warm entry? The soft yellow illuminates the golden tones of these timeless doors, balanced by the beautifully pieced sunflower wreath.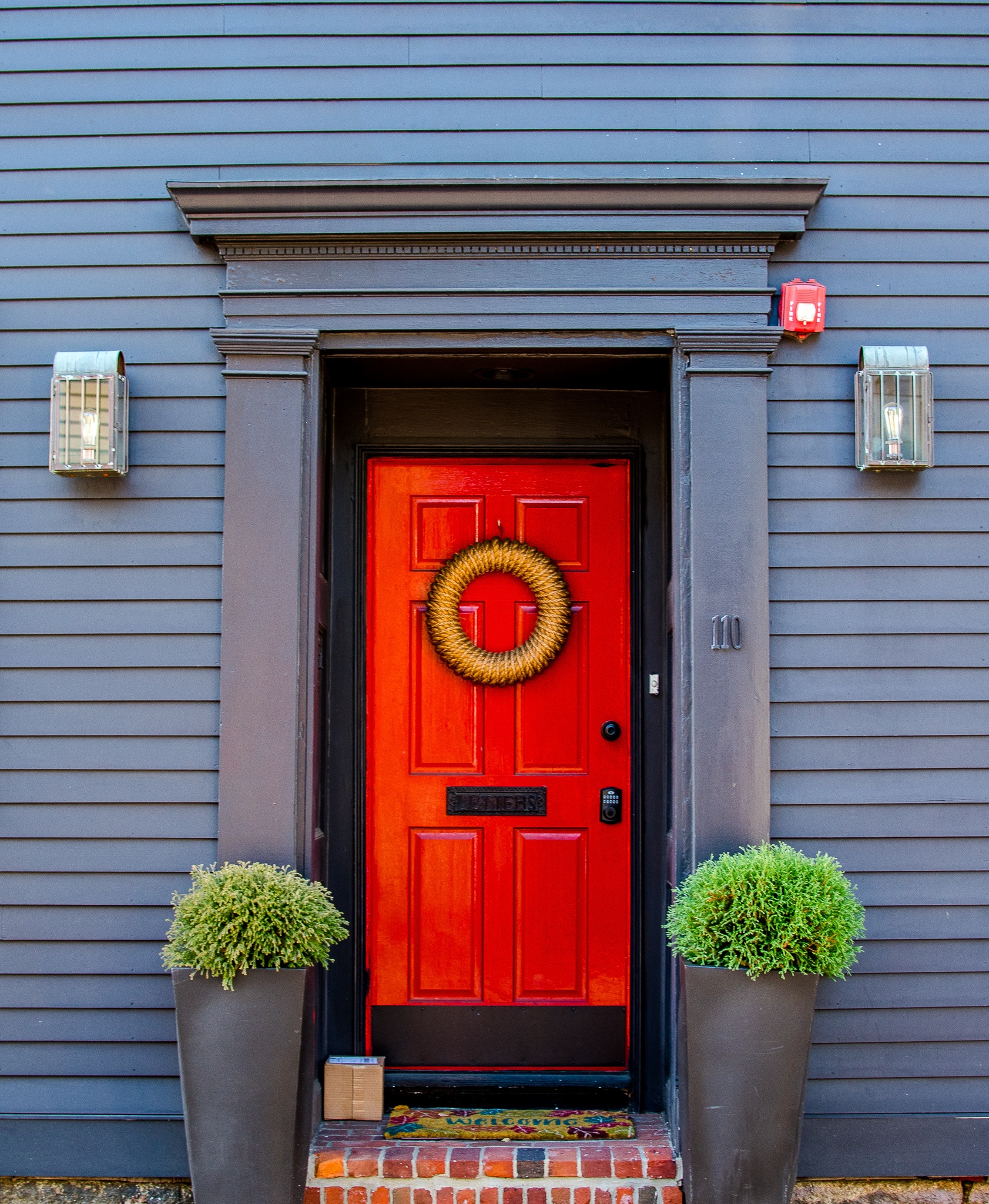 Simple Statement 
Often times an already pleasing design needs little change to make an impact on the season. This year we see plenty of organic-based wreaths from cotton to barley. This is a tamed version that lets the original design stand true.  
Trick Or Treat Signs  
Signage is a great way to insert a welcoming or playful feel to any entryway. This one happens to be mine! Find the tutorial for the signs HERE and the wreath HERE. I was inspired by the colors mums give us every season and chose these flowers on my wreath to match. Signs are easy to make and easy to see from the road, a great piece your neighbors will gush over.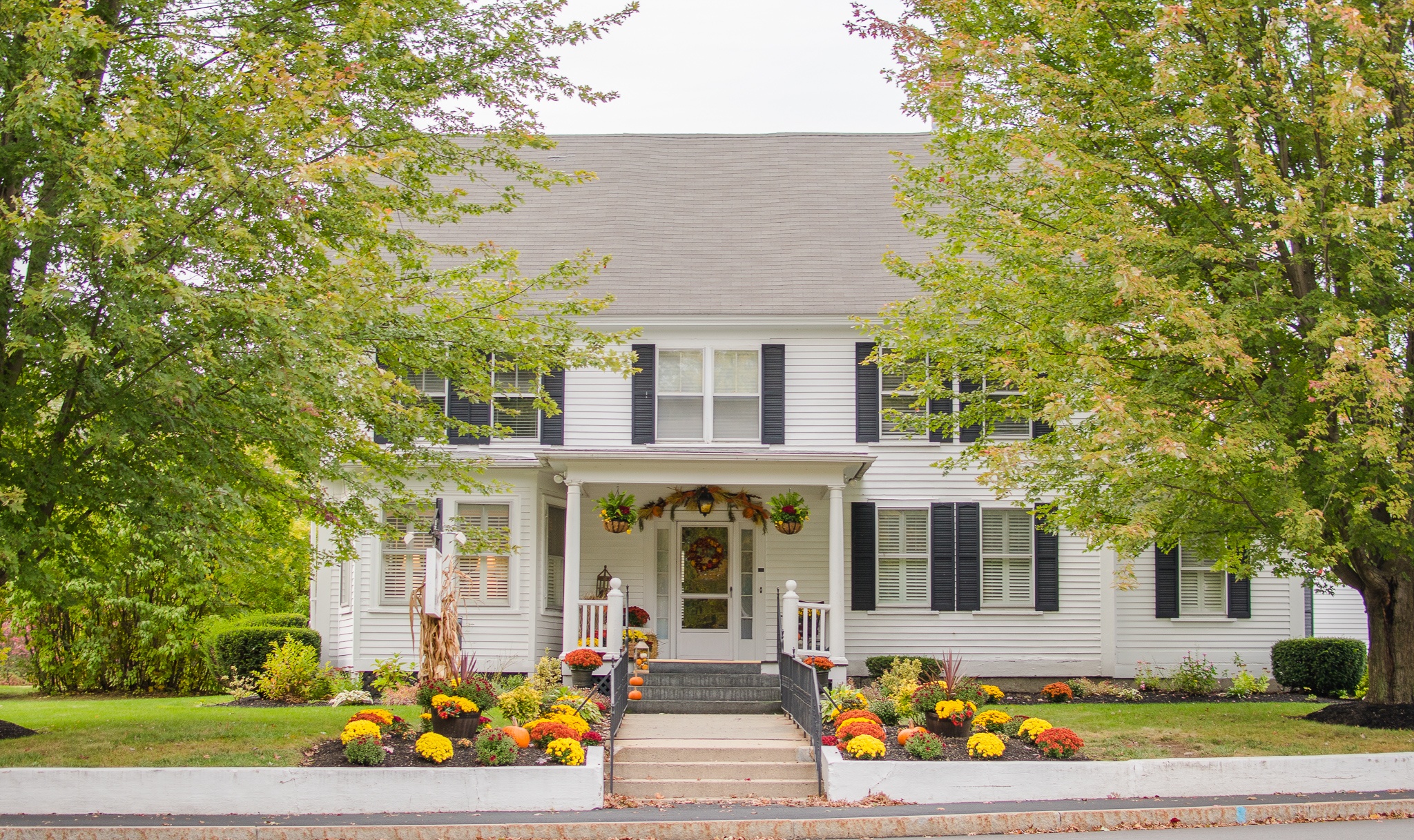 Yearly Blooms To Love  
Not only is this perfectly pruned yard gush worthy, it's actually my favorite in all of New England. The benefit on planting those fall mums we keep drooling over, is that they return every year. Just like tulips, plant yours this fall and enjoy them year and year again. This yard is down the way from our home, and passing it is always a delight.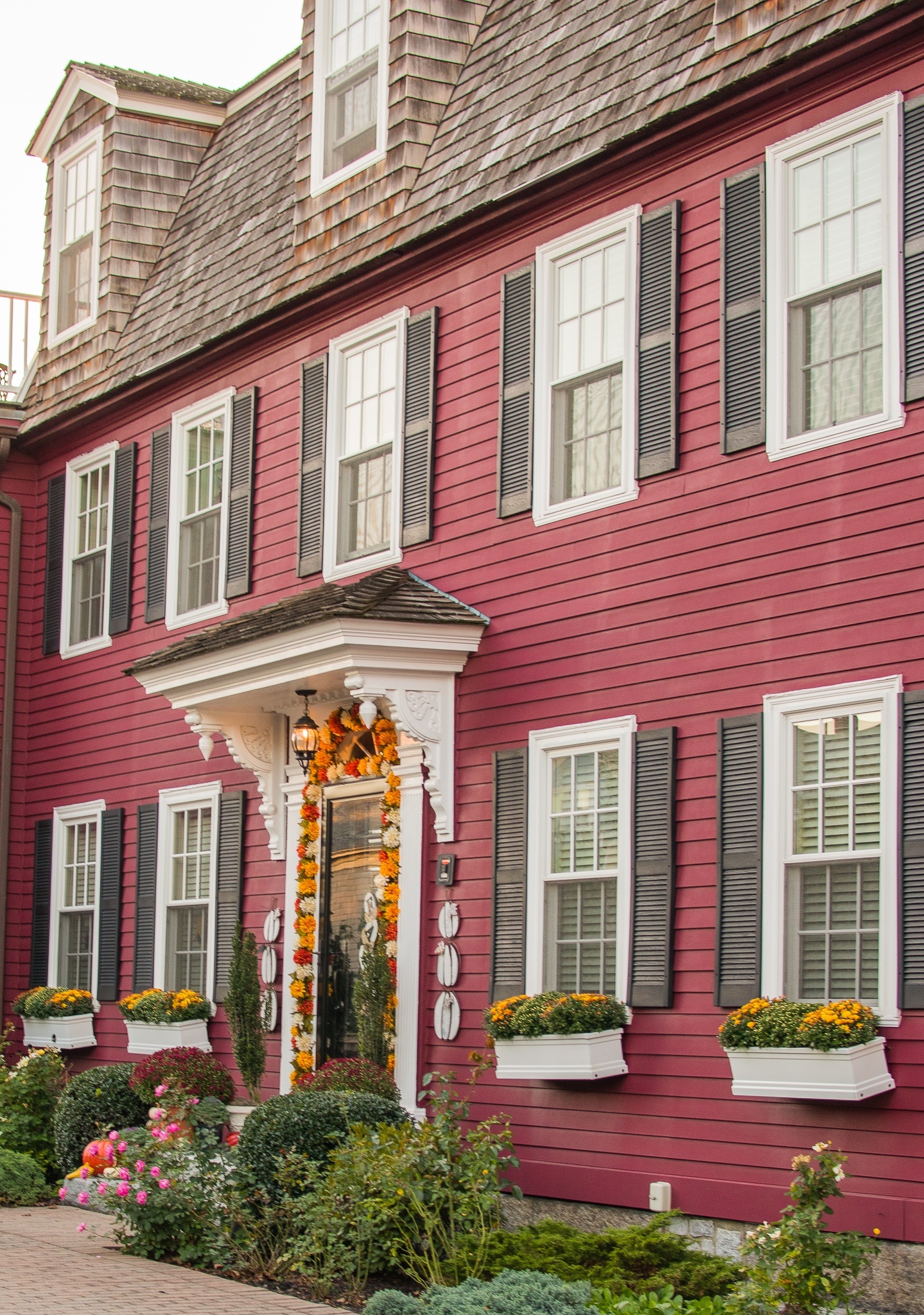 Crisp Cape Feel  
Though this darling facade is not in the cape, it's seaside location mirrors the homes that are. Simple garland adorns the entrance with matching pumpkin decor on each side. The window boxes are picture perfect packed with color to contrast. Personally, I'd love to walk this sidewalk to home every day, what about you?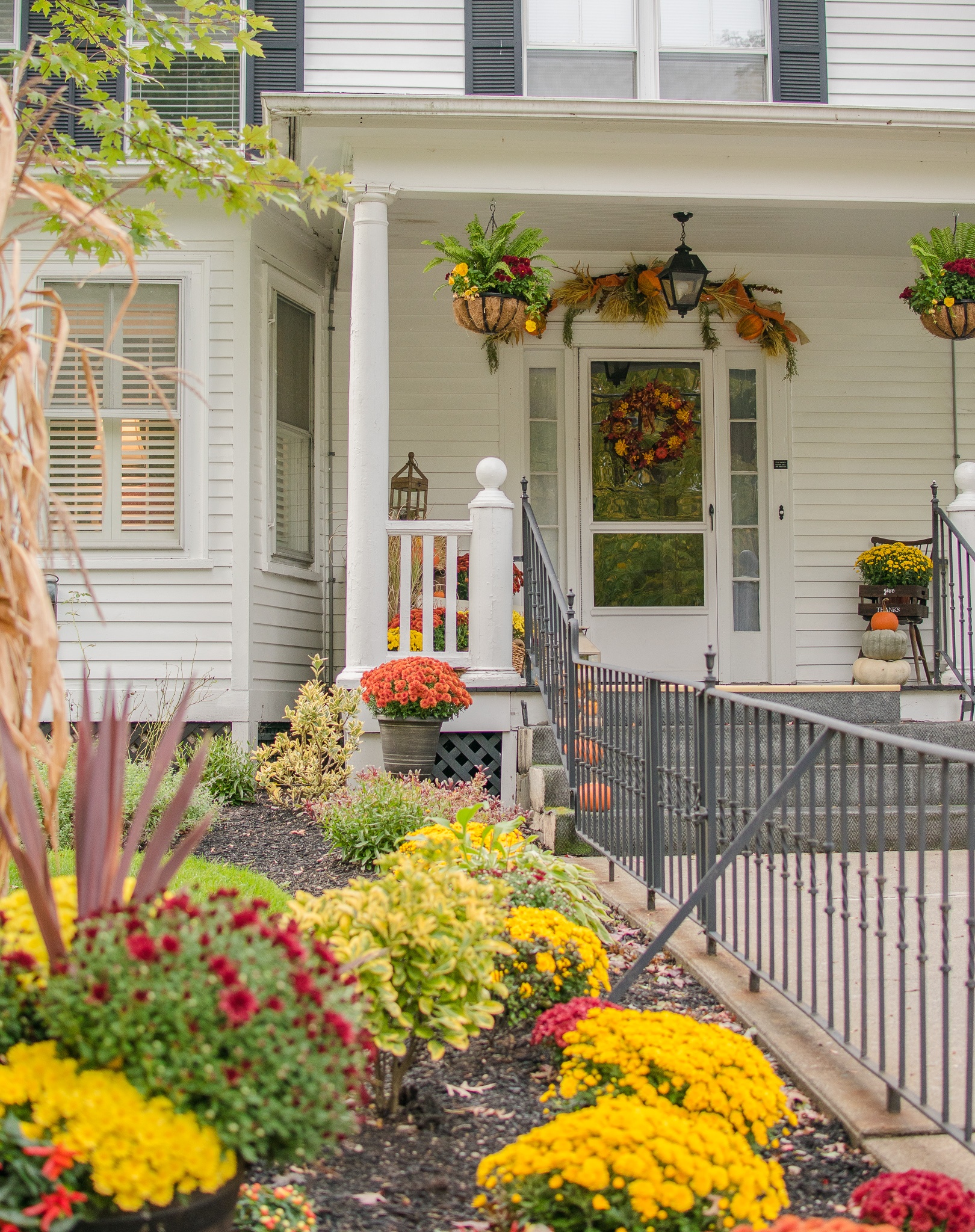 All In The Details
This Fall shoot is just the beginning, I can't wait to share more of what I love in New England. Just a few years here has been the most beautiful adventure, from jaw-dropping seasons to renovating our new home. Be sure to subscribe for future updates and follow me on Instagram for more home inspiration. 
Xo Chelsey